Is Contraception the Next Hot-Button Issue Headed to the Supreme Court? A Look Back at Eisenstadt v. Baird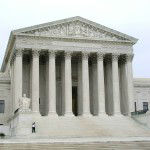 The reignited debate over the availability of contraception suggests the controversial issue could be headed back before the U.S. Supreme Court. Most recently, a New York federal judge ordered the U.S. Food and Drug Administration to make the morning-after pill available to patients of all ages without a prescription.
District Court Judge Edward R. Korman characterized the government's refusal to remove current contraception restrictions as "politically motivated, scientifically unjustified, and contrary to agency precedent." The ruling could to be appealed all the way to the country's highest court.
The Supreme Court issued its last key contraception decision in 1971. Eisenstadt v. Baird addressed whether unmarried men and women were entitled to possess contraception.
The Facts of the Case
William Baird was convicted of violating Massachusetts's law for giving a woman Emko Vaginal Foam at the close of his lecture to students on contraception. The law made it a felony to distribute contraceptives to unmarried men or women. Baird challenged the law, arguing that it violated the right to privacy acknowledged in Griswold v. Connecticut. In that case, the Supreme Court recognized a right to contraception by married couples.
The Supreme Court's Decision
The Court ultimately struck down the law on equal protection grounds. It found that by providing dissimilar treatment for married and unmarried persons who are similarly situated, the statute violated the Equal Protection Clause of the Fourteenth Amendment.
While the Court did not have to rely on privacy grounds to overturn the law, it was still referenced it in the majority opinion. "If the right of privacy means anything, wrote Justice William J. Brennan, Jr., "it is the right of the individual, married or single, to be free from unwarranted governmental intrusion into matters so fundamentally affecting a person as the decision to whether to bear or beget a child."
While Eisenstadt is still good law, times have certainly changed. Today, the majority of all women use birth control. However, it remains to be seen how this trend may impact any future decision by the Supreme Court.
The Amendments
Establishment ClauseFree Exercise Clause
Freedom of Speech
Freedoms of Press
Freedom of Assembly, and Petitition

Unreasonable Searches and Seizures

Due Process
Eminent Domain
Rights of Criminal Defendants
Preamble to the Bill of Rights
Congress of the United States begun and held at the City of New-York, on Wednesday the fourth of March, one thousand seven hundred and eighty nine.
THE Conventions of a number of the States, having at the time of their adopting the Constitution, expressed a desire, in order to prevent misconstruction or abuse of its powers, that further declaratory and restrictive clauses should be added: And as extending the ground of public confidence in the Government, will best ensure the beneficent ends of its institution.