What's on Deck? Court to Consider Buffers at Abortion Clinics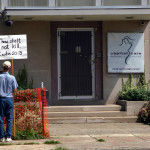 While the U.S. Supreme Court is not expected to squarely address the issue of abortion during its upcoming term, it will reconsider the legality of buffer zones around abortion clinics. The case, McCullen v. Coakley, involves a First Amendment challenge to a Massachusetts law that makes it illegal to "enter or remain on a public way or sidewalk" within 35 feet of an entrance, exit, or driveway of "a reproductive health care facility."
The petitioners maintain that the law is unconstitutional because it restricts the speech of "only those who wish to use public areas near abortion clinics to speak about abortion from a different point of view." The First Circuit Court of Appeals upheld the law under the First and Fourteenth Amendments.
The Supreme Court last considered abortion clinic buffer zones in the 2000 case, Hill v. Colorado. By a vote of 6-3, the justices upheld a Colorado law that makes it unlawful for any person within 100 feet of a health care facility's entrance to "knowingly approach" within 8 feet of another person, without that person's consent, in order to pass "a leaflet or handbill to, displa[y] a sign to, or engag[e] in oral protest, education, or counseling with [that] person…"
The majority reasoned that the law was permissible under the First Amendment because it "is not a regulation of speech. Rather, it is a regulation of the places where some speech may occur." As further highlighted by Justice John Paul Stevens, the statute was not adopted because of disagreement with the message of any speech. Rather, the restrictions apply to all demonstrators, regardless of viewpoint, and the statute makes no reference to the content of speech.
The petitioners in McCullen have argued that the Court's prior decision is distinguishable because it "applies only at abortion clinics; permits speech by clinic agents while excluding speakers who advocate alternatives to abortion; and completely excludes disfavored speakers from otherwise public areas." Alternatively, they argue that Hill should be overruled.
This case will be an interesting one to watch. While the composition of the Court has changed since 2000, Justice Anthony M. Kennedy, a notorious swing vote, dissented strongly to the Hill decision.
The Amendments
Establishment ClauseFree Exercise Clause
Freedom of Speech
Freedoms of Press
Freedom of Assembly, and Petitition

Unreasonable Searches and Seizures

Due Process
Eminent Domain
Rights of Criminal Defendants
Preamble to the Bill of Rights
Congress of the United States begun and held at the City of New-York, on Wednesday the fourth of March, one thousand seven hundred and eighty nine.
THE Conventions of a number of the States, having at the time of their adopting the Constitution, expressed a desire, in order to prevent misconstruction or abuse of its powers, that further declaratory and restrictive clauses should be added: And as extending the ground of public confidence in the Government, will best ensure the beneficent ends of its institution.