What's on Deck: Supreme Court Adds Gun Rights Case to the Docket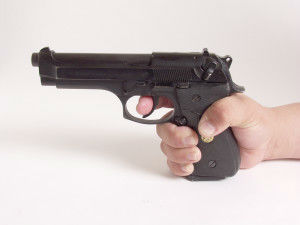 With all of the controversial issues before the U.S. Supreme Court this term, gun rights were noticeably absent. Not anymore — the justices recently agreed to consider eight new cases, one of which is United States v. Castleman.
The case challenges the reach of a federal law that bans gun possession for individuals convicted of misdemeanor domestic violence. The statute, 18 U.S.C. § 922(g)(9), specifically prohibits the purchase, possession, or transportation of guns and ammunition by people convicted of "a misdemeanor crime of violence," which is defined to include any offense that:
is a misdemeanor under Federal, State, or Tribal law; and
has, as an element, the use or attempted use of physical force, or the threatened use of a deadly weapon, committed by a current or former spouse, parent, or guardian of the victim, by a person with whom the victim shares a child in common, by a person who is cohabiting with or has cohabited with the victim as a spouse, parent, or guardian, or by a person similarly situated to a spouse, parent, or guardian of the victim[.]
In 2001, James Alvin Castleman pleaded guilty to one count of misdemeanor domestic assault in violation of Tennessee Code § 39-13-111(b). That statute makes a defendant liable for a misdemeanor if he commits an assault against a domestic abuse victim. Several years later, federal agents discovered that Castleman and his wife were buying firearms from dealers and selling them on the black market. He was subsequently indicted for possession of a firearm after being "convicted . . . of a misdemeanor crime of domestic violence," in addition to other charges.
The district court later dismissed the gun charges, finding that Castleman's misdemeanor domestic assault conviction did not qualify as a domestic violence crime requiring the "use or attempted use of physical force" as defined under the federal statute. On appeal, the Sixth Circuit agreed that "violent" force isn't required for a conviction under the Tennessee law.
"Castleman may have been convicted for causing a minor injury such as a paper cut or a stubbed toe," the appeals court said. The decision represents a split from other circuits that have held that a domestic assault conviction resulting from "subtle and indirect uses of physical force" still allows for  liability under the federal gun ban.
While the case involves a nuanced interpretation of a federal statute, its implications on the larger gun rights debate are significant. The Obama Administration maintains that the Sixth Circuit's interpretation of the law would invalidate bans throughout the United States, which are based on similar domestic violence laws.
The Amendments
Establishment ClauseFree Exercise Clause
Freedom of Speech
Freedoms of Press
Freedom of Assembly, and Petitition

Unreasonable Searches and Seizures

Due Process
Eminent Domain
Rights of Criminal Defendants
Preamble to the Bill of Rights
Congress of the United States begun and held at the City of New-York, on Wednesday the fourth of March, one thousand seven hundred and eighty nine.
THE Conventions of a number of the States, having at the time of their adopting the Constitution, expressed a desire, in order to prevent misconstruction or abuse of its powers, that further declaratory and restrictive clauses should be added: And as extending the ground of public confidence in the Government, will best ensure the beneficent ends of its institution.