Elonis v. United States: Supreme Court to Consider Online Threats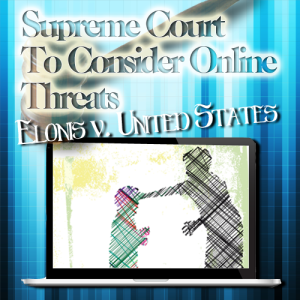 Threats of causing actual harm to someone has never been considered protected speech under the First Amendment.  The U.S. Supreme Court will now review online threats made on Facebook and Twitter, in  Elonis v. United States. The case involves a series of violent Facebook messages, which ultimately landed a Pennsylvania man in jail.
The Facts of the Case
The case revolves around Facebook posts made by Anthony Elonis in the wake of a divorce and subsequent job loss. Elonis' messages threatened violence against his former wife and co-workers. One such post about his estranged wide read: "There's one way to love you but a thousand ways to kill you. I'm not going to rest until your body is a mess, soaked in blood and dying from all the little cuts."
Another post read: "Did you know that it's illegal for me to say I want to kill my wife?" He added, "Now it was okay for me to say it right then because I was just telling you that it's illegal for me to say I want to kill my wife."
When the posts continued after Tara Elonis obtained a Protection From Abuse, Elonis was charged under a federal law (18 U.S.C. 875) prohibiting the transmission in interstate commerce of communications containing a threat to injure another person. Elonis appealed his subsequent conviction on the grounds that his statements were protected under the First Amendment's protection of speech. Prosecutors maintained that the Facebook posts fell under the amendment's true threat exception, which applies to "those statements where the speaker means to communicate a serious expression of an intent to commit an act of unlawful violence to a particular individual or group of individuals."
The Third Circuit Court of Appeals upheld the conviction. In evaluating whether the statements should be categorized as "true threats," the court applied a reasonable person standard rather than considering whether Elonis subjectively intended to carry out the threats.
"Limiting the definition of true threats to only those statements where the speaker subjectively intended to threaten would fail to protect individuals from 'the fear of violence' and the 'disruption that fear engenders,' because it would protect speech that a reasonable speaker would understand to be threatening," Senior Judge Anthony J. Scirica explained in the opinion.
The Issues Before the Court
The Court must decide whether existing precedent that excludes threatening speech from First Amendment protection applies to online speech.
As highlighted in Elonis' petition to the Court, "Communication online by email and social media has become commonplace, even as the norms and expectations for such communication remain unsettled. The inherently impersonal nature of online communication makes such messages inherently susceptible to misinterpretation."
The Court last considered the standard for evaluating the seriousness of a threat more than a decade ago in in Virginia v. Black. In that case, which involved cross burning, the majority held that subjective intent to threaten was required.
Since the decision, some lower courts have held that a conviction of threatening another person under 18 U.S.C. § 875(c) requires proof of the defendant's subjective intent to threaten. While others, including the Third Circuit, have ruled that it is enough to show that a "reasonable person" would regard the statement as threatening.
Of course, as in many cases, the Court could decide to sidestep the First Amendment issue altogether. It has also asked the parties to address a purely statutory question: "whether, as a matter of statutory interpretation, conviction of threatening another person under 18 U.S.C. § 875(c) requires proof of the defendant's subjective intent to threaten."
The Amendments
Establishment ClauseFree Exercise Clause
Freedom of Speech
Freedoms of Press
Freedom of Assembly, and Petitition

Unreasonable Searches and Seizures

Due Process
Eminent Domain
Rights of Criminal Defendants
Preamble to the Bill of Rights
Congress of the United States begun and held at the City of New-York, on Wednesday the fourth of March, one thousand seven hundred and eighty nine.
THE Conventions of a number of the States, having at the time of their adopting the Constitution, expressed a desire, in order to prevent misconstruction or abuse of its powers, that further declaratory and restrictive clauses should be added: And as extending the ground of public confidence in the Government, will best ensure the beneficent ends of its institution.