What's On Tap: Arizona Church Claims Sign Ordinance Violates First Amendment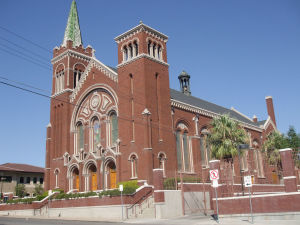 Religion is set to reclaim center stage when the U.S. Supreme Court's new term begins this fall. One of the cases to watch is Reed v. Town of Gilbert. The case involves whether an Arizona town's sign ordinance violates the First Amendment by restricting the ability of a local church to promote its services.
The Facts of the Case
The case centers on the town of Gilbert's municipal sign ordinance, under which signs are classified into one of three categories:
"Temporary sign[s] which support[] candidates for office or urge[s] action on any other matter on the ballot," which can be up to 32 square feet in size,
"Sign[s] communicating a message or ideas for noncommercial purposes" that are not related to a "qualifying event," which can be up to 20 square feet in size, and
Noncommercial signs that do relate to a "qualifying event," which can only be up to 6 square feet in size.
In its suit, the Good News Community Church alleges that its temporary signs promoting church services receive far worse treatment than temporary signs promoting political, ideological, and various other messages, even though they equally impact Gilbert's interests in safety and aesthetics.
The Legal Background
Under long-standing First Amendment precedent, content-based restrictions on speech are closely scrutinized and upheld only if they are "narrowly tailored" to a "compelling government interest." However, there is a conflict among the circuit courts regarding how to determine the content-neutrality of a sign ordinance.
In this case, the Ninth Circuit Court of Appeals upheld the sign ordinance, finding that the distinctions between the different types of signs are content-neutral. As explained by the panel, "[E]ach classification and its restrictions are based on objective factors relevant to Gilbert's creation of the specific exemption from the permit requirement and do not otherwise consider the substance of the sign. . . .  It makes no difference which candidate is supported, who sponsors the event, or what ideological perspective is asserted."
However, the decision was not unanimous. Judge Paul Watford, who could one day be appointed to the U.S. Supreme Court, strongly dissented. He wrote, "What we are left with, then, is Gilbert's apparent determination that 'ideological' and 'political' speech is categorically more valuable, and therefore entitled to greater protection from regulation, than speech promoting events sponsored by non-profit organizations. That is precisely the value judgment that the First and Fourteenth Amendments forbid Gilbert to make."
The Issues Before the Court
The specific question before the Court is: "Whether the Town of Gilbert's mere assertion that its sign code lacks a discriminatory motive renders its facially content-based sign code content-neutral and justifies the code's differential treatment of petitioners' religious signs."
The importance of the issue prompted several prominent First Amendment scholars to file an amicus brief, expressing their concern that the Ninth Circuit's decision and other similar circuit decisions "sharply deviate from this Court's precedents and risk eroding the critical distinction between content-based speech restrictions and content-neutral ones." They argue existing Supreme Court precedent holds that laws distinguishing speech based on content are content-based even if they are viewpoint-neutral and not prompted by any motive to suppress particular ideas.
The Amendments
Establishment ClauseFree Exercise Clause
Freedom of Speech
Freedoms of Press
Freedom of Assembly, and Petitition

Unreasonable Searches and Seizures

Due Process
Eminent Domain
Rights of Criminal Defendants
Preamble to the Bill of Rights
Congress of the United States begun and held at the City of New-York, on Wednesday the fourth of March, one thousand seven hundred and eighty nine.
THE Conventions of a number of the States, having at the time of their adopting the Constitution, expressed a desire, in order to prevent misconstruction or abuse of its powers, that further declaratory and restrictive clauses should be added: And as extending the ground of public confidence in the Government, will best ensure the beneficent ends of its institution.