Young v. United Parcel Service: Establishing Pregnancy Discrimination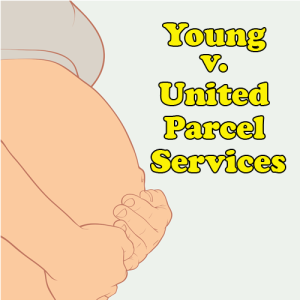 Establishing Pregnancy Discrimination
In Young v. United Parcel Service, Inc. 575 U.S. __ (2015); 135 S.Ct. 1338 (2015), the U.S. Supreme Court addressed what types of accommodations employers must make for pregnant workers. The employee-friendly decision was one of the most important employment cases of the 2014-2014 Term.
The Legal Background of Young v. United Parcel Services

The Pregnancy Discrimination Act (PDA) provides that "women affected by pregnancy, childbirth, or related medical conditions shall be treated the same for all employment-related purposes…as other persons not so affected but similar in their ability or inability to work." In case before the Supreme Court, Peggy Young filed suit against her employer, United Parcel Service, Inc. (UPS) for failing to provide her with the same accommodations as it provided to non-pregnant employees who were similar in their ability to work.
After becoming pregnant, Young provided UPS with a note from her midwife recommending that she not lift over twenty pounds during her pregnancy. Young stated that she was willing to do either light duty or her regular job. However, the manager explained that "UPS offered light duty for those with on-the-job injuries, those accommodated under the ADA, and those who had lost [Department of Transportation] certification, but not for pregnancy," and that "UPS policy did not permit Young to continue working as an air driver with her twenty-pound lifting restriction."
As a result, Young was forced to take an extended, unpaid leave of absence, during which she lost her medical coverage. After exhausting her remedies with the Equal Employment Opportunity Commission (EEOC), she filed suit under the PDA.
The district court sided with UPS, holding that the company's decision to deny Young's lifting accommodation turned on "gender-neutral criteria." The Fourth Circuit Court of Appeals affirmed, holding that UPS had crafted a "pregnancy-blind policy" by limiting accommodations to three specific categories.

The Supreme Court's Decision on Young v. United Parcel Services

By a vote of 6 to 3, the Supreme Court vacated and remanded the pregnancy discrimination case back to the Fourth Circuit. In so ruling, the majority largely rejected the arguments raised by all sides.
The Court flatly rejected UPS' argument that the PDA simply defines sex discrimination to include pregnancy discrimination. With regard to Young's proposed interpretation of the PDA, the Court held that it "doubts that Congress intended to grant pregnant workers an unconditional 'most-favored-nation' status, such that employers who provide one or two workers with an accommodation must provide similar accommodations to all pregnant workers, irrespective of any other criteria."
The Court also refused to give deference to the EEOC's pregnancy discrimination guidance, which was published in 2014 after the Court granted certiorari. It stated that an employer may not treat pregnant workers differently from employees who are similar in their ability or inability to work based on the cause of their limitations.
According to the majority, Young could, however, rely on the traditional McDonnell-Douglas burden-shifting framework to make a prima facie case for pregnancy discrimination. As explained in the opinion:
We believe that the plaintiff may reach a jury on this issue by providing sufficient evidence that the employer's policies impose a significant burden on pregnant workers, and that the employer's 'legitimate, nondiscriminatory' reasons are not sufficiently strong to justify the burden, but rather—when considered along with the burden imposed—give rise to an inference of intentional discrimination.
On remand, the Fourth Circuit must consider the question: "When the employer accommodated so many, could it not accommodate pregnant women as well?" Accordingly, the plaintiff will have an opportunity to revive her discrimination case.
The Amendments
Establishment ClauseFree Exercise Clause
Freedom of Speech
Freedoms of Press
Freedom of Assembly, and Petitition

Unreasonable Searches and Seizures

Due Process
Eminent Domain
Rights of Criminal Defendants
Preamble to the Bill of Rights
Congress of the United States begun and held at the City of New-York, on Wednesday the fourth of March, one thousand seven hundred and eighty nine.
THE Conventions of a number of the States, having at the time of their adopting the Constitution, expressed a desire, in order to prevent misconstruction or abuse of its powers, that further declaratory and restrictive clauses should be added: And as extending the ground of public confidence in the Government, will best ensure the beneficent ends of its institution.