Supreme Court Adopts Rule for Diversity Jurisdiction & Business Trusts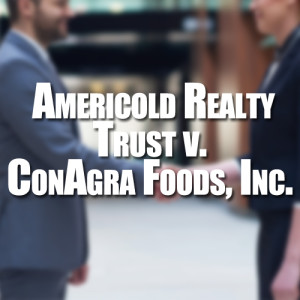 On March 7, 2016, the U.S. Supreme Court held that for purposes of diversity jurisdiction, the citizenship of an unincorporated entity, such as a real estate investment trust, depends on the citizenship of all of its members. The decision in Americold Realty Trust v. ConAgra Foods, Inc. was unanimous.
The Facts of Americold Realty Trust v. ConAgra Foods, Inc.
After a fire destroyed their products, a group of corporations based in Delaware, Nebraska, and Illinois sued the owner of the underground food-storage warehouse in a Kansas court. The defendant, Americold Realty Trust, is a "real estate investment trust" organized under Maryland law. Americold removed the suit to Federal District Court based on diversity-of- citizenship jurisdiction. The District Court ruled in Americold's favor.
On appeal, the Tenth Circuit held that the District Court lacked jurisdiction to hear the suit. According to the appeals court, since Americold was not a corporation, its citizenship for diversity jurisdiction purposes should be based on the citizenship of its members, which included its shareholders. Because no record of those shareholders' citizenship existed, diversity was not proved. 
The Court's Decision on Americold Realty Trust v. ConAgra Foods, Inc.
The Supreme Court agreed with the Tenth Circuit. "While humans and corporations can assert their own citizenship, other entities take the citizenship of their members," Justice Sonia Sotomayor wrote.
Justice Sotomayor further noted that while the citizenship of corporations is a notable exception, the Court continues to "adhere to [the] oft-repeated rule that diversity jurisdiction in a suit by or against the entity depends on the citizenship of all [its] members." Accordingly, Americold possesses the citizenship of all its members, who, under Maryland law, include its shareholders.
In reaching its decision, the Court rejected Americold's argument that anything called a "trust" possesses the citizenship of its trustees alone. Traditionally, a trust was considered a "fiduciary relationship" between multiple people and could not be haled into court; hence, legal proceedings involving a trust were brought by or against the trustees in their own name. Americold confuses the traditional trust with the variety of unincorporated entities that many States have given the "trust" label.
The Amendments
Establishment ClauseFree Exercise Clause
Freedom of Speech
Freedoms of Press
Freedom of Assembly, and Petitition

Unreasonable Searches and Seizures

Due Process
Eminent Domain
Rights of Criminal Defendants
Preamble to the Bill of Rights
Congress of the United States begun and held at the City of New-York, on Wednesday the fourth of March, one thousand seven hundred and eighty nine.
THE Conventions of a number of the States, having at the time of their adopting the Constitution, expressed a desire, in order to prevent misconstruction or abuse of its powers, that further declaratory and restrictive clauses should be added: And as extending the ground of public confidence in the Government, will best ensure the beneficent ends of its institution.