District Court Judge West Humphreys Impeached After Joining Confederacy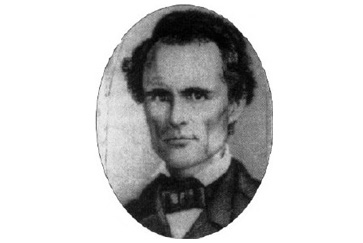 West H. Humphreys, who served as a judge for U.S. District Court for the Middle, Eastern, and Western Districts of Tennessee, was impeached in 1862 after he advocated in favor of succession and joined the Confederacy. He was the only federal official impeached during the Civil War.
Rise to U.S. District Judge
Humphreys was born on August 26, 1806, in Montgomery County, Tennessee. Taking after his father, who served as a state judge, Humphreys studied law and obtained his license to practice in 1828. He built a name for himself as a respected legal mind while serving as a delegate to the state's constitutional convention of 1834.
In 1839, Humphreys became attorney general of Tennessee, an office that he held for 11 years. He also served as reporter of the state supreme court, where he edited the Reports of Cases in the Supreme Court of Tennessee, 1839-1851. After briefly returning to private practice, President Franklin Pierce appointed Humphreys to be a U.S. district judge for the Middle, Eastern, and Western Districts of Tennessee.
Humphreys supported Tennessee succeeding from the Union. In 1861, he accepted an appointment for the Confederate district judgeship of Tennessee and abandoned his U.S. district court judgeship. As a confederate judge, Humphreys ruled for the confiscation of the property of Military Governor Andrew Johnson and U.S. Supreme Court Justice John Catron. He held his Confederate judgeship until the Civil War ended.
Impeachment During Civil War
In response to his role in the Confederacy, the U.S. House of Representatives initiated impeachment proceedings against Humphreys. In the proceedings, the members of the House of Representatives alleged that Humphreys "publicly declared in favor of secession; that he had neglected his duties as judge; that he had officiated as judge for the confederacy, and in that capacity had entertained proceedings against loyal citizens."
Humphreys was impeached by the U.S. House of Representatives on May 6, 1862, on charges of refusing to hold court and waging war against the U.S. government. The U.S. Senate convicted him and removed from office on June 26, 1862. Humphreys was also barred from holding office under the United States for life.
For more information on Federal Impeachments, please visit the Impeachment of Federal Judges in our interactive Constitution section.
For an enumeration of all Federal Judges that have been impeached please visit our Impeachment of Federal Judges page.
The Amendments
Establishment ClauseFree Exercise Clause
Freedom of Speech
Freedoms of Press
Freedom of Assembly, and Petitition

Unreasonable Searches and Seizures

Due Process
Eminent Domain
Rights of Criminal Defendants
Preamble to the Bill of Rights
Congress of the United States begun and held at the City of New-York, on Wednesday the fourth of March, one thousand seven hundred and eighty nine.
THE Conventions of a number of the States, having at the time of their adopting the Constitution, expressed a desire, in order to prevent misconstruction or abuse of its powers, that further declaratory and restrictive clauses should be added: And as extending the ground of public confidence in the Government, will best ensure the beneficent ends of its institution.