Lincoln Ally US District Judge Mark W Delahay Impeached for Intoxication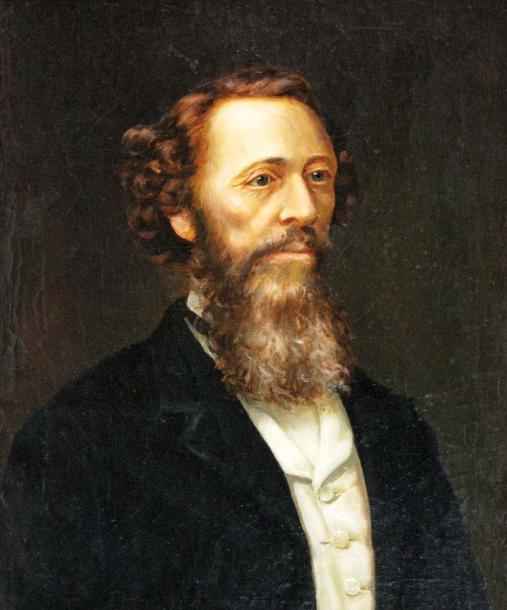 Mark W Delahay, a judge for the U.S. District Court for the District of Kansas, was impeached by the U.S. House of Representatives in 1873 for being intoxicated on the bench. Delahay resigned from the bench prior to his trial before the U.S. Senate.
Political Career of Mark W Delahay
Mark W Delahay was born in Talbot County, Maryland in 1828. He studied law in Illinois, where he met fellow attorney Abraham Lincoln. Over time, Delahay became a close friend and political ally of President Lincoln.
In 1853, Delahay opened a law practice in Mobile, Alabama. A few years later he relocated with his family to the newly-formed Kansas Territory. In 1857, he launched a Kansas newspaper, The Territorial Register, which spoke out against slavery. After unsuccessfully running for political office, Delahay supported Lincoln in his 1860 run for the presidency and helped establish the Kansas Republican Party. Once Lincoln became president, Delahay was appointed as surveyor general for Kansas and Nebraska in 1861.
Mark W Delahay's Nomination to District Court Judge
In 1863, President Lincoln nominated Delahay to fill a vacancy on the United States District Court for the District of Kansas, which was created by the death of Archibald Williams. Delahay was not a popular choice, as he was viewed by many as a political opportunist. Critics also questioned his character and lack of legal experience. Henry Clay Whitney, a fellow attorney noted, he was "distressingly impecunious and awfully bibulous," suggesting that he was habitually penniless and excessively fond of drinking alcohol.
Regarding Delahay's confirmation, Massachusetts Congressman John B. Alley later wrote:
One of Mr. Lincoln's greatest weaknesses seemed to be in being more or less oblivious to the faults of dear friends. Once he made an exceedingly obnoxious nomination for a United States Judgeship. A large majority of the Senate were indignant and opposed to the nomination. The nominee was a very old friend of the President and he was determined to have him confirmed. A distinguished senator told me that the Senate would never vote to confirm. I replied. 'You do not know Mr. Lincoln. He greatly desires the confirmation, and it will be done.' 'Never, never,' said he. But he was confirmed, and Senator [Charles] Sumner was the only one who spoke against it.
Despite the criticism, Delahay was confirmed by the United States Senate on March 15, 1864.
Impeachment for Intoxication
The U.S. House of Representatives began official impeachment proceedings in 1872. The charges included "corruption, malfeasance, and incompetency in office." Testimony included evidence that he was intoxicated on the bench. Senator Robert Crozier testified: "I am compelled to say that Judge Delahay frequently becomes inebriated. I have seen him in that condition very frequently off the bench, and several times on it."
Delahay also faced charges of corruption. R.W. Tayler, Comptroller of Treasury Department, wrote in a letter to the committee, "I have to state that no money in confiscation cases, from the district of Kansas, has been paid into the Treasury of the United States since the year 1860."
Facing conviction by the Senate, Delahay resigned in 1873. He died in 1879.
For a catalogue of all Federal Judges that have been impeached please visit our Impeachment of Federal Judges page.
The Amendments
Establishment ClauseFree Exercise Clause
Freedom of Speech
Freedoms of Press
Freedom of Assembly, and Petitition

Unreasonable Searches and Seizures

Due Process
Eminent Domain
Rights of Criminal Defendants
Preamble to the Bill of Rights
Congress of the United States begun and held at the City of New-York, on Wednesday the fourth of March, one thousand seven hundred and eighty nine.
THE Conventions of a number of the States, having at the time of their adopting the Constitution, expressed a desire, in order to prevent misconstruction or abuse of its powers, that further declaratory and restrictive clauses should be added: And as extending the ground of public confidence in the Government, will best ensure the beneficent ends of its institution.