Impeachment of Judge George W English Dismissed After Resignation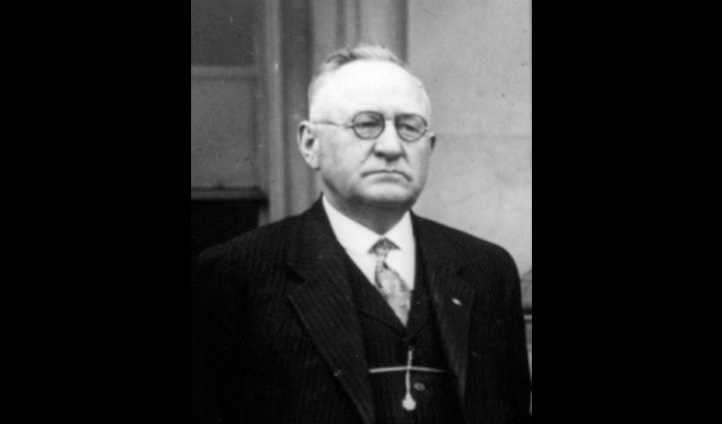 Judge George W English
George W English, a judge on the U.S. District Court for the Eastern District of Illinois, was impeached by the U.S. House of Representatives for abusing his power. When he resigned from office, the impeachment proceedings were dismissed.
Legal Career and Judgeship of George W English
George W English was born near Vienna, Illinois in English in 1866. After graduating from Illinois Wesleyan University in 1891, he became chief deputy sheriff of Johnson County, Illinois. English then entered the private practice of law in Vienna, Illinois. He served in the Illinois House of Representatives from 1907 to 1912, and he was a special income tax attorney with the U.S. Treasury Department from 1914 to 1918.
Judge English was nominated to the federal bench by President Woodrow Wilson on April 23, 1918. The Senate quickly confirmed his nomination, and he took the oath of office May 9, 1918.
Impeachment Proceedings
The U.S. House of Representatives initiated impeachment proceedings in 1924. The five articles of impeachment alleged:
Tyranny and oppression, and abuse of the powers of his office.
Partiality and favoritism, particularly to Charles B. Thomas, his referee in bankruptcy, to whom he was "under great obligation financial and otherwise."
Improper and unlawful conduct in connection with a "bankruptcy ring" operating in his district.
Manipulation of bankruptcy and other funds, in conjunction with his referee in bankruptcy, for the pecuniary benefit of the referee, himself and his son.
A general course of conduct constituting misbehavior and misdemeanor in office.
Notably, the articles do not charge "high crimes and misdemeanors," but were limited to charges of "misbehavior" and "misdemeanor in office." In response to House members that maintained the charges did not amount to impeachable offenses, Chairman Graham stated in his closing remarks:
Gentlemen, I have no feeling in this case. When the evidence was first taken in the committee I was doubtful, as these gentlemen have been, at the individual instances, and, considering their insufficiency, I was not favorable to impeachment then. But as I kept studying this case, as a matter of conscientious duty, I reached the conclusion that., it was my duty to join with my fellows in voting impeachment, and I earnestly ask this House to carry that through.
The House voted to impeach by a vote of 306 to 60. Judge English subsequently resigned from office. Since the Constitution authorizes the Senate to perpetually disqualify a federal official, resignation does not serve as a legal bar to trial upon the articles of impeachment. However, it had become the practice to dismiss charges if the official resigned.
For a detailed list of all Federal Judges that have been impeached please visit our Impeachment of Federal Judges page.
The Amendments
Establishment ClauseFree Exercise Clause
Freedom of Speech
Freedoms of Press
Freedom of Assembly, and Petitition

Unreasonable Searches and Seizures

Due Process
Eminent Domain
Rights of Criminal Defendants
Preamble to the Bill of Rights
Congress of the United States begun and held at the City of New-York, on Wednesday the fourth of March, one thousand seven hundred and eighty nine.
THE Conventions of a number of the States, having at the time of their adopting the Constitution, expressed a desire, in order to prevent misconstruction or abuse of its powers, that further declaratory and restrictive clauses should be added: And as extending the ground of public confidence in the Government, will best ensure the beneficent ends of its institution.