Judge Walter L. Nixon Impeached After Perjury Conviction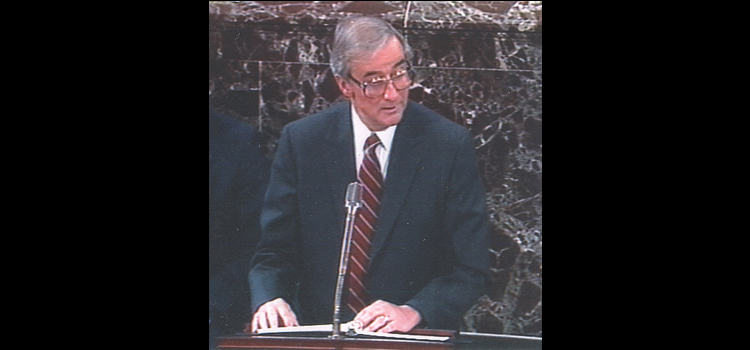 Walter L. Nixon, a judge on the U.S. District Court for the Southern District of Mississippi, was impeached and removed from office in 1989. He was impeached after being convicted oncharges of giving false testimony to a grand jury investigating allegations he had committed bribery.
Legal Career
Walter L. Nixon was born in Biloxi, Mississippi in 1928. After graduating from Tulane University Law School, he enteredprivate practice in Biloxi. On May 29, 1968, Nixon was nominated by President Lyndon B. Johnson to a newly createdseat on the United States District Court for the Southern District of Mississippi. He was confirmed by the U.S. Senate on June 6, 1968, and received his commission the next day. In 1982, he became the Chief Judge of the district court.
Judge Nixon became the target of a grand jury investigation after reports circulated that he had asked a local district attorney to refrain from prosecuting the son of a wealthy businessman who had enriched Nixon through an investment scheme. After denying any improper interference with the prosecution, Nixon was ultimately indicted for giving false testimony before the grand jury. At trial, he was convicted on two counts of perjury.
Nixon became the second federal judge to be convicted while in office. U.S. District Judge Harry E. Claiborne was convicted in 1983 on two counts of tax evasion, while U.S. District Judge Alcee L. Hastings was acquitted of bribery and conspiracy charges in 1983.
Impeachment Proceedings
Even after this conviction, Judge Nixon refused to resign and continued to collect his judicial salary while in prison. In response, the U.S. House of Representatives launched impeachment proceedings. Judge Nixon was impeached by the House on May 10, 1989, on charges of perjury before a federal grand jury and bringing disrepute on the federal judiciary.
Pursuant to Senate rules, a committee of twelve senators was appointed" to receive evidence and take testimony" and present its report to the full Senate. On November 3, 1989, the U.S. Senate found Judge Nixon guilty of two articles of impeachment and removed him from office.
Nixon subsequently filed a federal lawsuit, arguing that the Senate's failure to give him a full evidentiary hearing before the entire Senate violated its constitutional duty to "try" all impeachments. The court dismissed the suit, concluding that Nixon's claim was nonjusticiable because the Constitution gave the Senate "the sole Power to try all Impeachments.
For a full list of all Federal Judges that have been impeached please visit our Impeachment of Federal Judges page.
The Amendments
Establishment ClauseFree Exercise Clause
Freedom of Speech
Freedoms of Press
Freedom of Assembly, and Petitition

Unreasonable Searches and Seizures

Due Process
Eminent Domain
Rights of Criminal Defendants
Preamble to the Bill of Rights
Congress of the United States begun and held at the City of New-York, on Wednesday the fourth of March, one thousand seven hundred and eighty nine.
THE Conventions of a number of the States, having at the time of their adopting the Constitution, expressed a desire, in order to prevent misconstruction or abuse of its powers, that further declaratory and restrictive clauses should be added: And as extending the ground of public confidence in the Government, will best ensure the beneficent ends of its institution.