Religious Liberty and LGBTQ+ Rights Back on the Docket in Fulton v. City of Philadelphia, Pennsylvania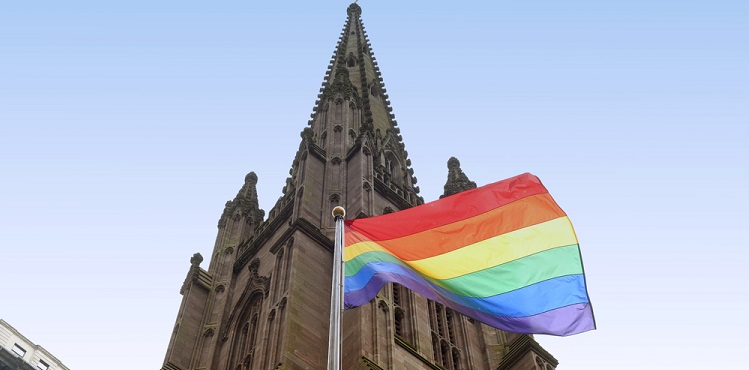 In Fulton v. City of Philadelphia, Pennsylvania, the U.S. Supreme Court will consider two controversial and often-competing constitutional issues — LGBTQ rights and religious liberty. The case involves whether the City of Philadelphia can ban Catholic Social Services (CSS)from providing foster care services because it has refused to consider same-sex couples as foster parents due to their LGBTQ+ status.
Facts of the Case
Catholic Social Services is a religious non-profit organization affiliated with the Archdiocese of Philadelphia that provides foster care services in Philadelphia. Under its contract with the City of Philadelphia, CSS was paid a per diem rate for each child placed in one of its affiliated foster homes. The one-year contract, which could be renewed on an annual basis, required CSS to certify its foster parents in accord with state regulations, but did not otherwise impose conditions on the certification process. It did, however, include language prohibiting CSS from discriminating due to race, color, religion, or national origin, and it incorporated the City's Fair Practices Ordinance, which in part prohibits sexual orientation discrimination in public accommodations.
In March 2018, a reporter from the Philadelphia Inquirer informed the City of Philadelphia's Department of Human Services that CSS and another agency would not work with same-sex couples as foster parents. Human Services investigated this allegation, which it considered a violation of the City's anti-discrimination laws. When the agencies confirmed that, because of their religious views on marriage, they would not work with gay couples, Human Services ceased referring foster children to them.
CSS takes the position that it can't certify a same-sex married couple as foster parents consistent with its religious views. However, state regulations require it to consider an applicant's "existing family relationships" as part of the certification process. In applying this criterion, CSS will only certify foster parents who are either married or single; it will not certify cohabitating unmarried couples, and it considers all same-sex couples to be unmarried.
After Human Services ceased referring foster children, CSS filed suit action alleging that the City has violated its rights under the First Amendment's Free Exercise, Establishment, and Free Speech Clauses, as well as under Pennsylvania's Religious Freedom Protection Act. It sought an order requiring the City to renew their contractual relationship while permitting it to turn away same-sex couples who wish to be foster parents.
The District Court denied the application for preliminary injunctive relief. The Third Circuit affirmed, ruling that CSS was not entitled to a preliminary injunction. "The City's non- discrimination policy is a neutral, generally applicable law, and the religious views of CSS do not entitle it to an exception from that policy," the appeals court held. "It has failed to make a persuasive showing that the City targeted it for its religious beliefs, or is motivated by ill will against its religion, rather than sincere opposition to discrimination on the basis of sexual orientation."
Issues Before the Supreme Court
In its petition for certiorari, CSS argued that the City has violated its religious freedom. "As a Catholic agency, CSS cannot provide written endorsements for same-sex couples which contradict its religious teachings on marriage," the petition argued. "The mayor, city council, Department of Human Services, and other city officials have targeted CSS and attempted to coerce it into changing its religious practices in order to make such endorsements."
In response, the City maintained that Human Services' contracts with CSS both prohibited discrimination on specific grounds and required compliance with its Fair Practices Ordinance. "This ordinance precludes discrimination based, among other things, on race and sexual orientation," the City argued. "DHS hasneverauthorized providers to refuse to certify, let alone refuse to establish fostering relationships with, prospective parents because of their membership in any protected category, including sexual orientation."
The Supreme Court granted certiorari and agreed to consider the following questions:
1. Whether free exercise plaintiffs can only succeed by proving a particular type of discrimination claim-namely that the government would allow the same conduct by someone who held different religious views-as two circuits have held, or whether courts must consider other evidence that a law is not neutral and generally applicable, as six circuits have held?
2. Whether Employment Division v. Smith should be revisited?
3. Whether a government violates the First Amendment by conditioning a
religious agency's ability to participate in the foster care system on taking actions and making statements that directly contradict the agency's religious beliefs?
Oral arguments are scheduled for November 4, 2020. A decision is expected by the end of the term in June 2021.
The Amendments
Establishment ClauseFree Exercise Clause
Freedom of Speech
Freedoms of Press
Freedom of Assembly, and Petitition

Unreasonable Searches and Seizures

Due Process
Eminent Domain
Rights of Criminal Defendants
Preamble to the Bill of Rights
Congress of the United States begun and held at the City of New-York, on Wednesday the fourth of March, one thousand seven hundred and eighty nine.
THE Conventions of a number of the States, having at the time of their adopting the Constitution, expressed a desire, in order to prevent misconstruction or abuse of its powers, that further declaratory and restrictive clauses should be added: And as extending the ground of public confidence in the Government, will best ensure the beneficent ends of its institution.