Supreme Court Rejects Cause of Action Under Bivens Against Border Patrol Agent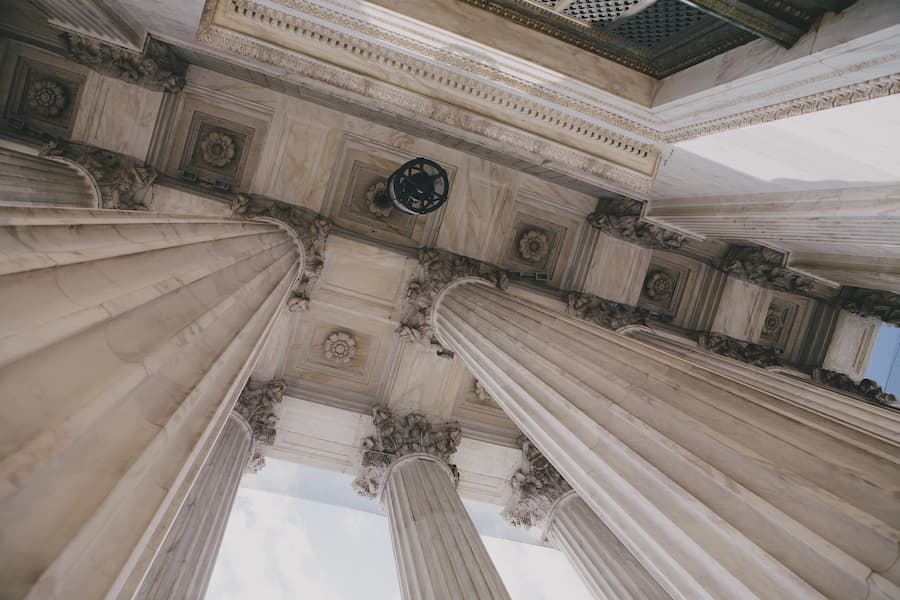 In Egbert v. Boule, 596 U.S. ____ (2022), the U.S. Supreme Court held that the authority of a court to imply a cause of action under Bivens v. Six Unknown Named Agents of Federal Bureau of Narcotics, 403 U.S. 388 (1971), does not extend to either a Fourth Amendment excessive-force claim or First Amendment retaliation claim against U.S. Border Patrol agent. While the Court did not overrule Bivens, it did emphasize that recognizing a Bivens cause of action is "a disfavored judicial activity."
Facts of the Case
Respondent Robert Boule owns a bed-and-breakfast—the Smuggler's Inn—in Blaine, Washington. The inn abuts the international border between Canada and the United States. Boule at times helped federal agents identify and apprehend persons engaged in unlawful cross-border activity on or near his property. At the same time, Boule would also provide transportation and lodging to illegal border crossers. Often, Boule would agree to help illegal border crossers enter or exit the United States, only to later call federal agents to report the unlawful activity.
In 2014, Boule informed petitioner Erik Egbert, a U.S. Border Patrol agent, that a Turkish national, arriving in Seattle by way of New York, had scheduled transportation to Smuggler's Inn. When Agent Egbert observed one of Boule's vehicles returning to the inn, he suspected that the Turkish national was a passenger and followed the vehicle to the inn. On Boule's account, Boule asked Egbert to leave, but Egbert refused, became violent, and threw Boule first against the vehicle and then to the ground. Egbert then checked the immigration paperwork for Boule's guest and left after finding everything in order. The Turkish guest unlawfully entered Canada later that evening.
Boule filed a grievance with Agent Egbert's supervisors and an ad- ministrative claim with Border Patrol pursuant to the Federal Tort Claims Act (FTCA). Egbert allegedly retaliated against Boule by reporting Boule's "SMUGLER" license plate to the Washington Department of Licensing for referencing illegal activity, and by contacting the Internal Revenue Service and prompting an audit of Boule's tax returns. Boule's FTCA claim was ultimately denied, and Border Patrol took no action against Egbert for his use of force or alleged acts of retaliation. Boule then sued Egbert in Federal District Court, alleging a Fourth Amendment violation for excessive use of force and a First Amendment violation for unlawful retaliation. Invoking Bivens, Boule asked the District Court to recognize a damages action for each alleged constitutional violation. The District Court declined to extend Bivens as re- quested, but the Court of Appeals reversed.
Supreme Court's Decision
The Supreme Court reversed by a vote of 6-3. Justice Clarence Thomas wrote on behalf of the majority.
While the Court did not overrule Bivens, it made it clear that such actions are disfavored. "In Bivens v. Six Unknown Fed. Narcotics Agents, 403 U.S. 388 (1971), this Court authorized a damages action against federal officials for alleged violations of the Fourth Amendment. Over the past 42 years, however, we have declined 11 times to imply a similar cause of action for other alleged constitutional violations," Justice Clarence Thomas wrote. "Nevertheless, the Court of Appeals permitted not one, but two constitutional damages actions to proceed against a U. S. Border Patrol agent: a Fourth Amendment excessive-force claim and a First Amendment retaliation claim. Because our cases have made clear that, in all but the most unusual circumstances, prescribing a cause of action is a job for Congress, not the courts, we reverse."
As Justice Thomas explained, when courts consider a proposed Bivens claim, they generally apply a two-step analysis. As set forth in Ziglar v. Abbasi, 582 U.S. ___ (2017), a court asks first whether the case presents "a new Bivens context"—i.e., is it "meaningfully different from the three cases in which the Court has implied a damages action," and, second, even if so, do "special factors" indicate that the Judiciary is at least arguably less equipped than Congress to "weigh the costs and benefits of allowing a damages action to proceed." According to Justice Thomas, "This two-step inquiry often resolves to a single question: whether there is any reason to think that Congress might be better equipped to create a damages remedy." Additionally, under the Court's precedents, a court may not fashion a Bivens remedy if Congress already has provided, or has authorized the Executive to provide, "an alternative remedial structure."
Applying the above precedent to Boule's Fourth Amendment claim, the majority found that the "risk of undermining border security provides reason to hesitate before extendingBivensinto this field." In further support of its decision, the majority cited that, by regulation, Border Patrol must investigate "[a]lleged violations" and accept grievances from "[a]ny persons." As Justice Thomas explained, "Congress has provided alternative remedies for aggrieved parties in Boule's position that independently foreclose a Bivens action here."
With regard to the First Amendment retaliation claim, the majority found that extending Bivens to alleged First Amendment violations would pose an acute "risk that fear of personal monetary liability and harassing litigation will unduly inhibit officials in the discharge of their duties." Anderson v. Creighton, 483 U.S. 635 (1987). Accordingly,  it further determined that Congress is in a better position to decide whether or not the public interest would be served" by imposing a damages action.
The Amendments
Establishment ClauseFree Exercise Clause
Freedom of Speech
Freedoms of Press
Freedom of Assembly, and Petitition

Unreasonable Searches and Seizures

Due Process
Eminent Domain
Rights of Criminal Defendants
Preamble to the Bill of Rights
Congress of the United States begun and held at the City of New-York, on Wednesday the fourth of March, one thousand seven hundred and eighty nine.
THE Conventions of a number of the States, having at the time of their adopting the Constitution, expressed a desire, in order to prevent misconstruction or abuse of its powers, that further declaratory and restrictive clauses should be added: And as extending the ground of public confidence in the Government, will best ensure the beneficent ends of its institution.