SCOTUS Takes on Jack Daniels' First Amendment Parody Case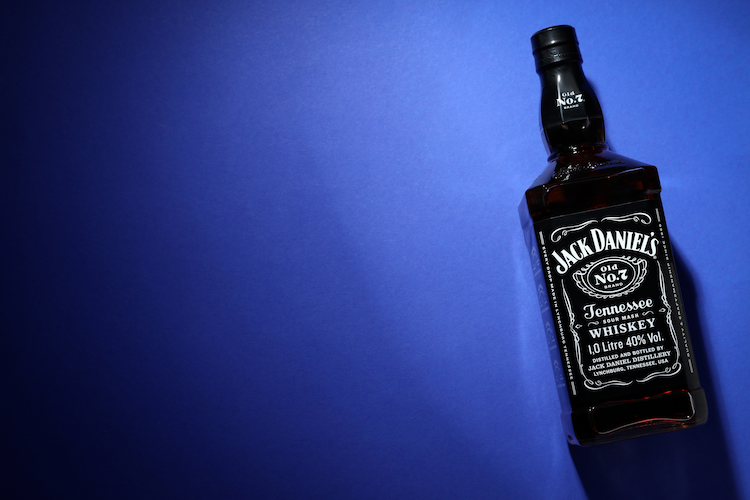 The Supreme Court recently heard oral arguments in a closely watched case involving intellectual property law and First Amendment principles. The case, Jack Daniel's Properties v VIP Products, centers on where courts should draw the line between parody and trademark infringement.
Dog Toy Dispute
The dispute involves a dog toy sold by Respondent VIP Products LLC (VIP) that imitates Jack Daniel's famous Old No. 7 Black Label Tennessee Whiskey bottle. The toy, known as "Bad Spaniels," features light-hearted, dog-related alterations, such as replacing the name "Jack Daniel's" with "Bad Spaniels," "Old No. 7" with "Old No. 2," and alcohol content descriptions with "43% POO BY VOL." and "100% SMELLY."
After Jack Daniel's Properties, Inc. (Jack Daniel's) demanded that VIP cease selling the toy, VIP filed suit, seeking a declaration that the toy did not infringe Jack Daniel's trademark rights or, in the alternative, that Jack Daniel's trade dress and bottle design were not entitled to trademark protection. Jack Daniel's counterclaimed, asserting trademark infringement and dilution.
Trademark Protection vs. First Amendment Rights
The district court found that VIP's use of Jack Daniel's trademarks to sell the dog toys was likely to confuse consumers, infringed Jack Daniel's marks, and tarnished Jack Daniel's reputation. The Ninth Circuit reversed, holding that VIP's First Amendment interest in using Jack Daniel's trademarks as its own marks on funny dog toys conferred special protection from infringement claims.
In reaching its decision, the Ninth Circuit found that Bad Spaniels is an expressive work and applied the test set forth in Rogers v. Grimaldi, 875 F.2d 994 (2d Cir. 1989),which requires the plaintiff to show that the defendant's use of the mark is either (1) "not artistically relevant to the underlying work" or (2) "explicitly misleads consumers as to the source or content of the work." Because it found VIP's commercial dog toys are "noncommercial," the Ninth Circuit also found they were exempt from dilution-by-tarnishment claims.
In granting certiorari, the Supreme Court agreed to consider two issues: (1) Whether humorous use of another's trademark as one's own on a commercial product is subject to the Lanham Act's traditional likelihood-of-confusion analysis,15 U.S.C. § 1125(a)(1), or instead receives heightened First Amendment protection from trademark-infringement claims; and (2) whether humorous use of another's mark as one's own on a commercial product is "noncommercial" and thus bars as a matter of law a claim of dilution by tarnishment under the Trademark Dilution Revision Act,15 U.S.C. § 1125(c)(3)(C).
During oral arguments held on March 22, 2023, there were several humorous moments as they justices questioned whether reasonable consumers would believe that Jack Daniels sanctioned the poop-themed dog toy. Justice Clarence Thomas laughed as Justice Elena Kagan listed several of the other parody dog toys made by VIP, "Doggie Walker, Dos Perros, Smella Arpaw, Canine Cola, Mountain Drool. Are all of these companies taking themselves too seriously?"
The justices also focused on the extent to which parody differs from political or artistic works thatRogersand the First Amendment should protect. "This is a standard commercial product," said Justice Kagan. "This is not a political T-shirt. It's not a film. It's not an artistic photograph. It's nothing of those things."
Several justices expressed concerns about the implications of abandoning theRogerstest, as Jack Daniels suggested. "Well, I'm concerned about the First Amendment implications of your position and you began by saying, by stressing that Rogers is atextual, it was made up,"Justice Samuel Alito said. "You know, there is a text that says that Congress shall make no law infringing the freedom of speech. That's a text that takes precedence over the Lanham Act and you said there are no constitutional issues." Several major brands, as well as the Justice Department, have submitted briefs supporting Jack Daniels. However, it was unclear during oral arguments how the Court may rule. A decision is expected by the end of the term in June.
The Amendments
Establishment ClauseFree Exercise Clause
Freedom of Speech
Freedoms of Press
Freedom of Assembly, and Petitition

Unreasonable Searches and Seizures

Due Process
Eminent Domain
Rights of Criminal Defendants
Preamble to the Bill of Rights
Congress of the United States begun and held at the City of New-York, on Wednesday the fourth of March, one thousand seven hundred and eighty nine.
THE Conventions of a number of the States, having at the time of their adopting the Constitution, expressed a desire, in order to prevent misconstruction or abuse of its powers, that further declaratory and restrictive clauses should be added: And as extending the ground of public confidence in the Government, will best ensure the beneficent ends of its institution.