Supreme Court Upholds California Animal Welfare Law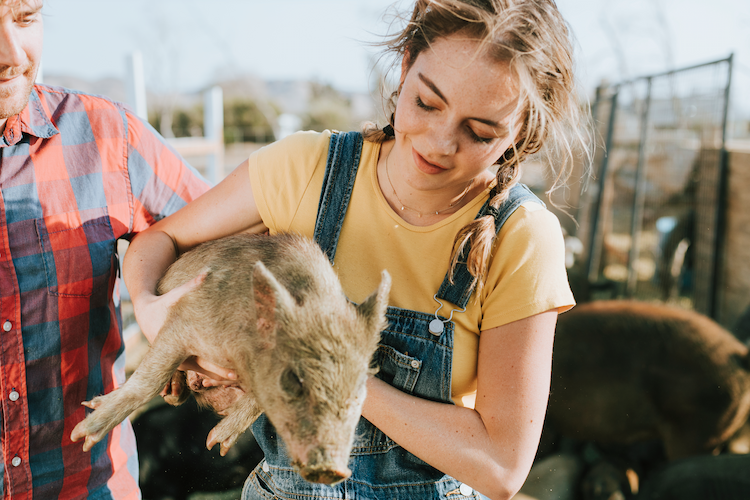 In National Pork Producers Council v. Ross, 598 U.S. ____ (2023), the U.S. Supreme Court rejected a constitutional challenge to a California animal welfare law that requires pork sold in the state to come from humanely raised pigs. According to the Court, the law did not violate the dormant commerce clause in regulating the pork industry outside California.
Facts of the Case
The case centered ona California law known as Proposition 12, which forbids the in-state sale of whole pork meat that comes from breeding pigs (or their immediate offspring) that are "confined in a cruel manner." Under Cal. Health & Safety Code Ann. §25990(b)(2), confinement is considered "cruel" if it prevents a pig from "lying down, standing up, fully extending [its] limbs, or turning around freely."
Prior to the vote on Proposition 12, proponents suggested the law would benefit animal welfare and consumer health, and opponents claimed that existing farming practices did better than Proposition 12 protecting animal welfare (for example, by preventing pig-on-pig aggression) and ensuring consumer health (by avoiding contamination).
Shortly after Proposition 12's adoption, two organizations—the National Pork Producers Council and the American Farm Bureau Federation (petitioners)—filed suit on behalf of their members who raise and process pigs alleging that Proposition 12 violates the U.S. Constitution by impermissibly burdening interstate commerce. Petitioners estimated that the cost of compliance with Proposition 12 will increase production costs and will fall on both California and out-of-state producers. However, given that California imports almost all the pork it consumes, most of Proposition 12's compliance costs will be borne by out-of-state firms. The district court held that petitioners' complaint failed to state a claim as a matter of law and dismissed the case.
The Ninth Circuit Court of Appeals affirmed. "State laws that regulate only conduct in the state, including the sale of products in the state, do not have impermissible extraterritorial effects,"the court held.
Supreme Court's Decision
The Supreme Court affirmed by a vote of 5-4. Justice Neil Gorsuch wrote on behalf of the majority.
"Companies that choose to sell products in various States must normally comply with the laws of those various States. Assuredly, under this Court's dormant Commerce Clause decisions, no State may use its laws to discriminate purposefully against out-of-state economic interests. But the pork producers do not suggest that California's law offends this principle," he wrote. "Instead, they invite us to fashion two new and more aggressive constitutional restrictions on the ability of States to regulate goods sold within their borders. We decline that invitation. While the Constitution addresses many weighty issues, the type of pork chops California merchants may sell is not on that list."
The Court first addressed the petitioners' reliance on the "extraterritoriality doctrine," rejecting the argument that the Court's dormant Commerce Clause cases suggest an additional and "almost per se" rule forbidding enforcement of state laws that have the "practical effect of controlling commerce outside the State," even when those laws do not purposely discriminate against out-of- state economic interests.
According to the Court, the cases relied upon by the petitioners, Healy v. Beer Institute, 491 U.S. 324 (1989); Brown-Forman Distillers Corp. v. New York State Liquor Authority, 476 U.S. 573 (1986); and Baldwin v. G. A. F. Seelig, Inc., 294 U.S. 511 (1935), do not establish such a rule. "Instead, each typifies the familiar concern with preventing purposeful discrimination against out-of-state economic interests," Justice Gorsuch explained. He went on to emphasize that petitioners' reading would "cast a shadow" over laws long understood to represent valid exercises of the States' constitutionally reserved powers. In our interconnected national marketplace, many (maybe most) state laws have the 'practical effect of controlling' extraterritorial behavior," he wrote.
The Court next turned to the petitioners' second theory, which was rooted in Pike v. Bruce Church, Inc., 397 U.S. 137 (1970). Under Pike, the petitioners' contended, a court must at least assess "the burden imposed on interstate commerce" by a state law and prevent its enforcement if the law's burdens are "clearly excessive in relation to the putative local benefits."
While the argument was ultimately unsuccessful, the justices did not agree on why. Gorsuch, joined by Justices Clarence Thomas and Amy Coney Barrett, found that the Pike balancing task propose by the petitioners is one no court is equipped to undertake. "On the one hand, some out-of-state producers who choose to comply with Proposition 12 may incur new costs," Gorsuch wrote. "On the other hand, the law serves moral and health interests of some (disputable) magnitude for in-state residents. Some might reasonably find one set of concerns more compelling. Others might fairly disagree. How should we settle that dispute? The competing goods are incommensurable."
Six other justices felt that the Court could and should conduct the Pike balancing test, although they disagreed on the outcome. Justice Sonia Sotomayor wrote an opinion concurring in part, which was joined by Justice Elena Kagan; Chief Justice John Roberts wrote an opinion concurring in part and dissenting in part that was joined by Justices Samuel Alito, Brett Kavanaugh, and Ketanji Brown Jackson. Justice Gorsuch, joined by Justices Thomas, Sotomayor, and Kagan, found that the allegations in the complaint were insufficient as a matter of law to demonstrate a substantial burden on interstate commerce, a showing Pike requires before a court may assess the law's competing benefits or weigh the two sides against each other. Meanwhile, Justice Amy Coney Barrett concluded that the judgment should be affirmed because Pike balancing requires both the benefits and burdens of a State law to be judicially cognizable and comparable, but the benefits and burdens of Proposition 12 are incommensurable.
The Amendments
Establishment ClauseFree Exercise Clause
Freedom of Speech
Freedoms of Press
Freedom of Assembly, and Petitition

Unreasonable Searches and Seizures

Due Process
Eminent Domain
Rights of Criminal Defendants
Preamble to the Bill of Rights
Congress of the United States begun and held at the City of New-York, on Wednesday the fourth of March, one thousand seven hundred and eighty nine.
THE Conventions of a number of the States, having at the time of their adopting the Constitution, expressed a desire, in order to prevent misconstruction or abuse of its powers, that further declaratory and restrictive clauses should be added: And as extending the ground of public confidence in the Government, will best ensure the beneficent ends of its institution.