Supreme Court Upholds Corporate Personal Jurisdiction Laws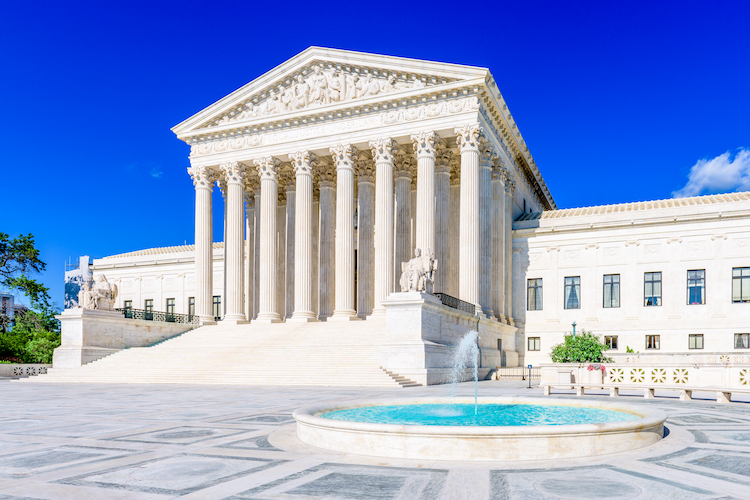 In Mallory v. Norfolk Southern Railway Co., 600 U.S. ____ (2023), the U.S. Supreme Court upheld the constitutionality of state laws requiring corporations operating within their borders to consent to personal jurisdiction when they register to do business in those states. According to the Court, such laws do not offend the Constitution's Due Process Clause.
Facts of the Case
Robert Mallory worked for Norfolk Southern as a freight-car mechanic for nearly 20 years, first in Ohio, then in Virginia. After he left the company, Mallory moved to Pennsylvania for a period before returning to Virginia. Along the way he was diagnosed with cancer. Because he attributed his illness to his work at Norfolk Southern, Mallory sued his former employer under the Federal Employers' Liability Act a federal workers' compensation scheme permitting railroad employees to recover damages for their employers' negligence. Mallory filed his lawsuit in Pennsylvania state court.
Norfolk Southern—a company incorporated in Virginia and headquartered there—resisted the suit on the basis that a Pennsylvania court's exercise of personal jurisdiction over it would offend the Due Process Clause of the Fourteenth Amendment. Norfolk Southern noted that when the complaint was filed, Mallory resided in Virginia, and the complaint alleged that Mr. Mallory was exposed to carcinogens only in Ohio and Virginia.
In response, Mallory pointed to Norfolk Southern's presence in Pennsylvania, noting that Norfolk Southern manages over 2,000 miles of track, operates 11 rail yards, and runs three locomotive repair shops in Pennsylvania. In fact, Norfolk Southern has registered to do business in Pennsylvania in light of its "regular, systematic, [and] extensive" operations there. Mallory also cited that Pennsylvania requires out-of-state companies that register to do business in the Commonwealth to agree to appear in its courts on "any cause of action" against them. By complying with this statutory scheme, Mallory submitted, Norfolk Southern had consented to suit in Pennsylvania on claims just like his. The Pennsylvania Supreme Court sided with Norfolk Southern, holding that the Pennsylvania law violated Due Process.
Supreme Court's Decision
The Supreme Court reversed. By a slim 5-4 majority, the Court held that Pennsylvania's statute requiring out-of-state companies to consent to suit in Pennsylvania courts in order to do business in Pennsylvania does not violate the Due Process Clause. Justice Neil Gorsuch wrote on behalf of the majority.
In reaching its decision, the Courtrecognized a consent-based theory of personal jurisdiction, which it found does not conflict with the contacts-based test set forth in International Shoe Co. v. Washington, 326 U.S. 310 (1945), Daimler AG v. Bauman, 571 U.S. 117 (2014), and Goodyear Dunlop Tires Operations SA v. Brown, 564 U.S. 915 (2011). According to the Court, those decisions did not overrule the precedent established in Pennsylvania Fire Ins. Co. of Philadelphia v. Gold Issue Mining & Milling Co., 243 U.S. 93 (1917), in which the Court held that a similar Montana law complied with the Due Process Clause. Instead, "[t]he two precedents sit comfortably side by side."
As Justice Gorsuch explained, International Shoedid not rule out all alternative grounds for personal jurisdiction, but "stake[d] out anadditional road to jurisdiction over out-of-state corporations." He added: "Pennsylvania Fireheld that an out-of-state corporation thathasconsented to in-state suits in order to do business in the forum is susceptible to suits there.International Shoeheld that an out-of-state corporation thathas notconsented to in-state suits may also be susceptible to claims in the forum State based on 'the quality and nature of [its] activity' in the forum."
The Supreme Court went on to find that its decision in Pennsylvania Fire Insurance governed the case. "Not every case," Justice Gorsuch noted, "poses a new question. This case poses a very old question indeed — one this Court resolved more than a century ago inPennsylvania Fire." He further wrote:
Norfolk Southern applied for a 'Certificate of Authority' from the Commonwealth which, once approved, conferred on Norfolk Southern both the benefits and burdens shared by domestic corporations, including amenability to suit in state court on any claim. For more than two decades, Norfolk Southern has agreed to be found in Pennsylvania and answer any suit there. To decide this case, the court need not speculate whether any other statutory scheme and set of facts would suffice to establish consent to suit. It is enough to acknowledge that the state law and facts before the court fall squarely within Pennsylvania Fire's rule.
In a concurring opinion, Justice Samuel Alito argued that the Pennsylvania law may violate the Constitution's dormant commerce clause. "In my view, there is a good prospect that Pennsylvania's assertion of jurisdiction here — over an out-of-state company in a suit brought by an out-of-state plaintiff on claims wholly unrelated to Pennsylvania — violates the Commerce Clause," he wrote. "Aside from the operational burdens it places on out-of-state companies, Pennsylvania's scheme injects intolerable unpredictability into doing business across state borders. … I am hard-pressed to identify any legitimate local interest that is advanced by requiring an out-of-state company to defend a suit brought by an out-of-state plaintiff on claims wholly unconnected to the forum state."
The Amendments
Establishment ClauseFree Exercise Clause
Freedom of Speech
Freedoms of Press
Freedom of Assembly, and Petitition

Unreasonable Searches and Seizures

Due Process
Eminent Domain
Rights of Criminal Defendants
Preamble to the Bill of Rights
Congress of the United States begun and held at the City of New-York, on Wednesday the fourth of March, one thousand seven hundred and eighty nine.
THE Conventions of a number of the States, having at the time of their adopting the Constitution, expressed a desire, in order to prevent misconstruction or abuse of its powers, that further declaratory and restrictive clauses should be added: And as extending the ground of public confidence in the Government, will best ensure the beneficent ends of its institution.