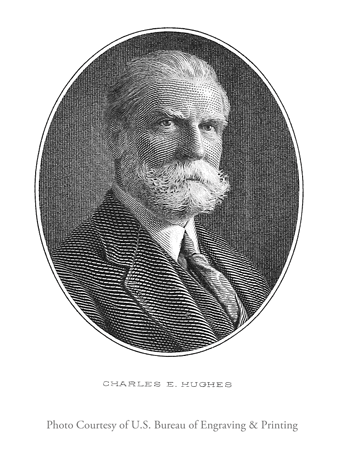 Charles Evans Hughes lived from 1862 to 1948, serving in a variety of capacities in government throughout his life. He was elected Governor of New York, served two different stints on the U.S. Supreme Court – including being named the 11th Chief Justice – and was nearly elected President.
Early Years
Hughes was born in Great Falls, New York, on April 11, 1862. He entered Madison College (which is now known as Colgate University) at the age of only 14 before transferring to Brown and graduating at the age of 19. He then graduated from Columbia Law School in 1884.
Governor of New York
After practicing and teaching law in New York, the Republican Hughes successfully won the post of Governor of New York over media mogul William Randolph Hearst in 1906.
During his time in office, he overhauled a great deal of the state's rules, overhauling campaign finance laws and increasing the power of the state government.
First Term on the Supreme Court
Hughes served on the U.S. Supreme Court two different times. He was first appointed by President William H. Taft as an Associate Justice. He served in that capacity for six years, authoring a number of opinions expanding the power of state and federal regulations.
Run for President and Secretary of State
In 1916, Hughes resigned from the Supreme Court in order to run for President against incumbent Woodrow Wilson. He was defeated in a narrow election, losing by just 23 electoral votes, but declined to run again in 1920.
He returned to government service in 1921 when he was appointed Secretary of State by President Warren Harding, who later died in office. He served the full term after Vice President Calvin Coolidge stepped in, but resigned when Coolidge won the next election.
Time as Chief Justice
Following his resignation in 1925, Hughes was appointed to the post of Chief Justice on the U.S. Supreme Court in 1929, which he filled for 12 years.
Hughes played a central role in determining the constitutionality of many of the New Deal laws enacted by President Franklin D. Roosevelt. While he upheld many pieces of legislation, decisions in Schechter Poultry Corp. v. United States and other cases struck down other bills. His time on the court was also colored by President Roosevelt's controversial plan to pack the court with up to six additional justices, which eventually failed.
Death and Family Legacy
Hughes retired from the Supreme Court in 1941 before passing away in 1948. His son, Charles E. Hughes, Jr., also continued in his father's legal footsteps. He was named to the post of U.S. Solicitor General in 1929.