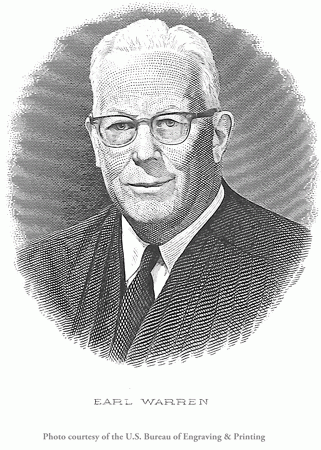 Earl Warren lived between 1891 and 1974, and was a prominent politician in the United States. Warren also served as the country's 14th Supreme Court Chief Justice, and is best recognized for his decisions regarding segregation, defendants' rights and school prayer.
Early Life
Earl Warren was born on March 19, 1891 in Los Angeles, California. Warren graduated with a Bachelors degree in Political Science from the University of California – Berkeley, and Boalt Hall, LL.B. He was admitted to the California bar in 1914, but worked for an oil company for one year before gaining employment at a law firm. In 1917, Warren enlisted in the U.S. Army for World War I, and was discharged in 1918. Between 1920 and 1925, Warren served as deputy city attorney for Oakland, California, until being appointed district attorney of Alameda County, California.
During his many years as a district attorney, Warren gained notoriety for his stance of being tough-on-crime.
Political Career
Warren was elected Attorney General of California in 1938 and continued his campaign against crime. However, he is most remembered for his organization of the civilian defense program, part of which included Japanese internment camps during World War II.
In 1942, Warren was elected Governor of California. During his three terms as Governor, he focused heavily on post-war economic planning, building up educational institutions and developing the state's infrastructure. In 1948, he ran as a vice presidential candidate alongside Thomas Dewey. Dewey famously lost the election to Harry S. Truman.
Supreme Court
In 1953, President Dwight D. Eisenhower appointed Warren as Chief Justice of the U.S. Supreme Court. Warren is perhaps most well-known for his decision in Brown v. Board of Education, which ruled that state laws mandating the segregation of public schools on the basis of race were unconstitutional. In Gideon v. Wainwright, the Court ruled that indigent defendants must receive public attorneys, and Miranda v. Arizona required police and interrogators to ensure those in their custody understand that they have certain rights.
In another controversial decision, Engel v. Vitale, the Warren Court outlawed mandatory prayer in school.
Legacy
Warren retired in 1969, but was remembered for revolutionizing America during his tenure due to his rulings on civil rights, the separation of church and state and a defendant's rights. He passed away in 1974 and was buried in Arlington National Cemetery.