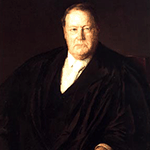 Edward Douglass White lived between 1844 and 1921, and was a renowned politician, senator, attorney and U.S. Supreme Court Justice. He played a role in several of the most significant issues of his lifetime, ranging from African American rights following the Civil War to labor rights in the early 1900s.
Early Life
Edward White was born on November 3, 1844, in Lafourche Parish, Louisiana. He attended Jesuit College in New Orleans, followed by Mount St. Mary's College. He then enrolled in Georgetown before earning his law degree at the University of Louisiana – later Tulane University – in 1868.
Political career
White began a law practice in New Orleans following his admission to the bar, and served on the Louisiana State Senate in 1874. Between 1879 and 1880, he also served as an Associate Justice on the Louisiana Supreme Court. After earning recognition for assisting in the abolition of the corrupt Louisiana Lottery, White was appointed to the United States Senate in 1891. However, he resigned his post in 1894 to accept President Grover Cleveland's nomination to serve as an Associate Justice on the U.S. Supreme Court. During his tenure, his opinion in the Plessy v. Ferguson case fell in line with the majority vote to approve segregation.
U.S. Supreme Chief Justice
President William Taft nominated White to the position of Chief Justice in 1910, making him the second Chief Justice in U.S. history – following John Rutledge – to have first served as an Associate Justice. White is known for formulating the Rule of Reason, which provided a concrete interpretation of antitrust law. His decision to uphold the Adamson Act also set the maximum work day for railroad workers to eight hours. In Guinn v. United States, White ruled that the grandfather clauses in Oklahoma and Maryland, which imposed literacy tests as a qualification to vote, were unconstitutional. During his tenure, White swore in Presidents Woodrow Wilson and Warren G. Harding.
Death and Legacy
White died in 1921 while still serving on the Supreme Court. He remained popular in his home state of Louisiana, and there are several monuments and statues throughout New Orleans that were erected in his honor. In 1995, he was posthumously inducted into the Louisiana Political Museum Hall of Fame.