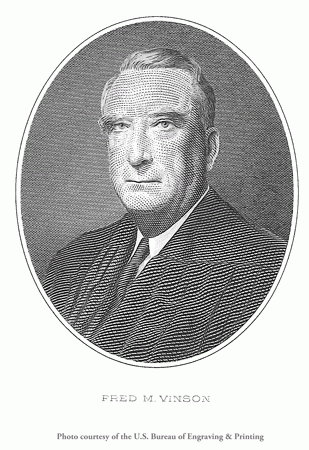 Frederick Moore Vinson lived between 1890 and 1953, and was known for his prominent role in all three branches of government. Vinson belonged to a powerful political family and exerted a great deal of influence over the political era of his time.
Early Life
Frederick Vinson was born on January 22, 1890, in Louisa, Kentucky. He graduated from Centre College at the top of his class and served as an attorney in the small town of Louisa. He was elected City Attorney of the town until he joined the military during WWI. After the war ended, Vinson continued to rise to prominence and became the Commonwealth Attorney for the Thirty-Second Judicial District of Kentucky.
Political Rise
Between 1924 and 1928, Vinson served as a U.S. Representative for Kentucky. He was elected as a Representative again in 1930 and held this seat until 1937, when he was elected to the U.S. Court of Appeals for the District of Columbia by Franklin D. Roosevelt. During his tenure on the Court of Appeals, he also served as Chief Judge for the U.S. Emergency Court of Appeals, a position afforded to him by then Supreme Court Chief Justice Harlan Fiske Stone. He served out this position until 1943, when he resigned to become the director of the Office for Economic Stabilization. Between 1945 and 1946, Vinson was appointed U.S. Secretary of the Treasury and was responsible for managing U.S. expenses during and after the war.
During the post-war years, Vinson oversaw the inauguration of the International Bank for Reconstruction and Development as well as the International Monetary Fund.
Chief Justice
In 1946, Vinson was nominated by President Harry S. Truman to become the U.S. Supreme Court's Chief Justice. During his time on the Supreme Court, issues of racial segregation, communism and labor issues were the most common cases brought before the court. He was also well-known for deciding not to review the conviction and death penalty court decisions of Julius and Ethel Rosenberg.
Death and Legacy
Vinson served as Supreme Court Chief Justice until passing away suddenly in 1953 of a heart condition. He was largely credited for managing a deeply divided court with grace. His court decisions, published works and judicial papers are archived at the University of Kentucky, where many law students rely on the documents for research.