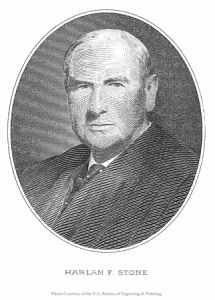 Harlan Fiske Stone lived between 1872 and 1946. Stone served as an attorney, jurist and dean of Columbia Law School before becoming the 12th Chief Justice of the U.S. Supreme Court.
Early Life
Harlan Stone was born on October 11, 1872, in Chesterfield, New Hampshire. He received his degree from Amherst College, where he later went on to receive his masters degree. In the meantime, he taught history at Adelphi Academy. Stone graduated from Columbia Law School and was admitted to the New York Bar in 1898. Over the next several years, Stone practiced law, became a law professor for Columbia University and eventually served as dean of the law school between 1910 and 1923.
Stone was also very active during WWI serving on the War Department Board of Inquiry. In 1924, he was appointed U.S. Attorney General. During his time serving this position, he appointed J. Edgar Hoover head of the Justice Department's Bureau of Investigation, which would later become the Federal Bureau of Investigation.
Justice Positions
In 1925, Harlan Stone became an Associate Justice of the U.S. Supreme Court. He was known for his liberal positions and during President Franklin D. Roosevelt's time in office, was a strong supporter of the New Deal. His support gained him favor from President Roosevelt, and he was elevated to the position of Supreme Court Chief Justice in 1941. Between 1941 and 1946, Stone also served as Chairman of the Judicial Conference of the United States.
During his tenure as Chief Justice, Stone upheld the President's power to try Nazi saboteurs that were captured on American lands. He also wrote the court opinion in International Shoe Co v. Washington, which established a precedent for state courts to exert personal jurisdiction over parties.
In 1946, only five years after being appointed Chief Justice, Stone suddenly passed away at the age of 73. He served one of the shortest terms as a Chief Justice of the Supreme Court in history.
Legacy
During Stone's life, he served on several boards and associations, and received various honors for his services and intellect. He directed the Atlanta & Charlotte Air Line Railroad Company and served as president of the Association of the American Law Schools. Stone was also a member of the American Bar Association.
Stone also received honorary degrees from Amherst College, Yale University, Columbia and Williams College.