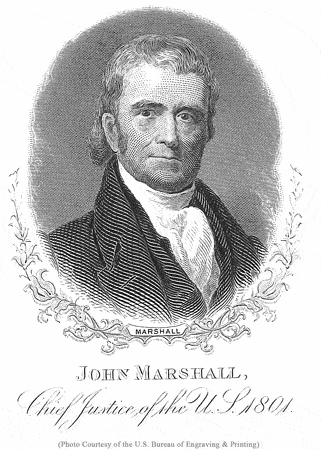 John Marshall lived between 1755 – 1835 and is known for his significant contributions to the foundation of constitutional law and judicial power. During his tenure as Chief Justice of the U.S. Supreme Court, he ruled on many well-known cases that helped establish the court as a third and equal branch of government.
Early life
John Marshall was born on September 24, 1755, in Germantown, Virginia. Because Marshall worked during his childhood, he had no formal education and was instead instructed by his father. His employer also granted him access to an impressive library on his estate, from which Marshall studied ancient Roman law and English literature. He joined the Continental Army during the Revolutionary War, and later enrolled in the College of William and Mary to study law. He was admitted to the bar in 1780.
Politics
Between 1782 and 1789, Marshall held a seat in the Virginia House of Delegates. He held this position again between 1795 and 1796, after which he was elected by the Virginia General Assembly to serve as Council of State. In 1788, Marshall served as a delegate of the Virginia Convention, where he lobbied for ratification of the U.S. Constitution. After it was ratified, Marshall associated himself with the Federalist Party and its platforms. In 1799, Marshall was elected to the House of Representatives, and soon became the Secretary of State in 1800.
Chief Justice of the Supreme Court
Marshall served as U.S. Chief Justice from 1801 to 1835, during which time he saw six presidents take office. During his tenure, he made many changes to the Supreme Court, the first of which eliminated the practice of justices submitting separate opinions. As it is still done today, Marshall enacted a tradition of writing one unified court opinion. In addition, Marshall cemented the Supreme Court's authority for interpreting constitutional law, as well as its significance of a co-equal branch of government.
Marbury v. Madison was the first important case Marshall ruled on, in which the Supreme Court ruled an act of Congress to be unconstitutional and highlighted the doctrine of judicial review. Fletcher v. Park soon followed to become the first case in which a state law was ruled unconstitutional. In McCulloch v. Maryland, Marshall set a precedent that forbid states from taxing an arm of the federal government.
Marshall died in 1835 in Pennsylvania while receiving medical treatment, after serving as Chief Justice for 34 years.