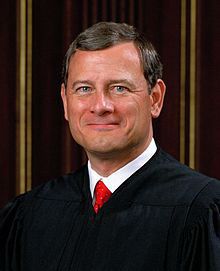 John Roberts was born in 1955 and is currently serving as the country's 17th Chief Justice on the U.S. Supreme Court. Roberts has a solid history of legal expertise and has ruled on several groundbreaking cases during his tenure on the Supreme Court, most recently the Patient Protection and Affordable Care Act.
Early Years
Roberts was born on January 27, 1955 in Buffalo, New York. He attended Harvard College, from which he graduated in three years, and went on to attend Harvard Law School. In his years at Harvard, he ascended to managing editor of the Harvard Law Review before graduating with his juris doctor in 1979. Following graduation, he clerked for one year for Henry Friendly on the Second Circuit Court of Appeals, and later for William Rehnquist, whom he would replace as Chief Justice following Rehnquist's death.
Legal Career
Roberts worked in the private law firm Hogan and Hartson in 1986, but left the firm between 1989 and 1993 to serve as Principal Deputy Solicitor General under George H.W. Bush. He returned to Hogan and Hartson after this period and also served as a faculty member at Georgetown University Law Center. During his time in private practice, he argued 39 cases before the Supreme Court, winning 25 of them.
In 2001, President George W. Bush nominated Roberts to the U.S. Court of Appeals for the District of Columbia Circuit. Due to political debates, Roberts, known for his conservative leanings, was not confirmed by the Senate until 2003.
Supreme Court Chief Justice
In 2005, President Bush nominated Roberts to the Supreme Court to replace the retiring Sandra Day O'Connor. However, Warren Rehnquist passed away during this period and Bush withdrew Roberts' nomination and submitted a new nomination for the position of Chief Justice of the Supreme Court.
During his period leading the court, Roberts has ruled in several landmark cases. Recently, Roberts wrote the majority opinion in National Federation of Independent Business v. Sebelius, which upheld the Patient Care and Affordable Care Act enacted by President Barack Obama, as well as one of the most important Fourth Amendment decisions in decades, Riley v. California/
Roberts also holds positions in several non-judicial capacities, including his role as Chancellor of the Smithsonian Institution.