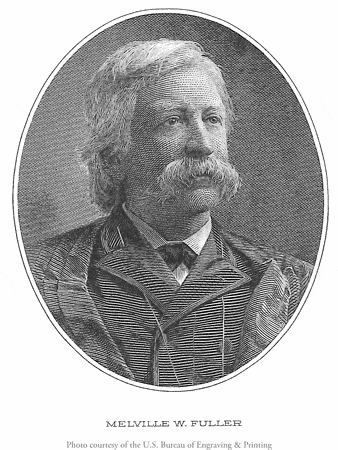 Melville Weston Fuller lived between 1833 and 1910, and served as a politician and the United States' eighth Supreme Court Chief Justice.
Early Life
Melville Fuller was born on February 11, 1833, in Augusta, Maine. Fuller enrolled in Harvard University, but transferred and graduated from Bowdoin College in 1853. Following his graduation, Fuller matriculated at Harvard Law School, but left the school in 1855 before graduating. Instead, he studied law under an uncle and was admitted to the bar in late 1855. He relocated to Chicago in 1856 and became a leading attorney within two years, during which time he appeared before the Supreme Court of Illinois.
Political Career
Fuller served as a delegate at the Illinois constitutional convention in 1862, and was a member of the Illinois House of Representatives between 1863 and 1865. In the years 1864, 1872, 1876 and 1880 he served as a delegate to the Democratic National Convention. In 1886, Fuller became president of the Illinois State Bar Association. Due to his growing presence in the legal field, President Grover Cleveland tried to put Fuller in several positions of power, including chairman of the United States Civil Service Commission and later Solicitor General of the United States. However, Fuller declined both posts. In 1888, President Cleveland nominated Fuller as Chief Justice of the United States, a position which he readily accepted.
Chief Justice
During his tenure as Chief Justice, Fuller presided over several important cases including Plessy v. Ferguson in 1896. After his first three years on the Supreme Court, he served on the Arbitration Commission in Paris to resolve a dispute between the United Kingdom and Venezuela. In Gonzalez v. Williams in 1904, Fuller ruled that Puerto Ricans were not aliens and could not be denied entry into the United States. His various rulings on immigration issues also raised several other questions about the citizenship status and immigration rights of Puerto Ricans.
Death and Legacy
During his time on the Supreme Court, Fuller's popularity grew. From that point on, he continued to be offered prestigious positions, such as Secretary of State, that he refused. As a Chief Justice, Fuller administered the oaths of five U.S. presidents.