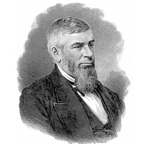 Morrison Remick Waite lived between 1816 and 1888, and served as a prominent attorney and the seventh Supreme Court Chief Justice of the United States. Waite oversaw more than 3,000 cases during his tenure as Chief Justice and was responsible for interpreting Reconstruction Amendments and the rights of African Americans following the Civil War.
Early life
Morrison Waite was born in Lyme, Connecticut on November 29, 1816. He attended Yale University through 1837 and became a member of the Skull and Bones and Phi Beta Kappa Society, shedding light on his reputation as a friendly, personable and popular person among his peers. Following his admission to the bar in 1839, he moved to Ohio to start a law practice.
Political Career
Waite ran a prominent law practice in Maumee City, Ohio, and was elected for one term in the Ohio Senate between 1849 and 1850. Waite also ran twice for a seat in the U.S. Senate but was unsuccessful. In 1871, Waite served as counsel for the Alabama Tribunal at Geneva, and his role earned him significant recognition among Americans. Following his return from Europe, Waite presided over the Ohio Constitutional Convention and was nominated by President Ulysses S. Grant to the U.S. Supreme Court in 1874.
Chief Justice
Waite's tenure as Chief Justice has been characterized as productive and efficient, and he became renowned for his ability to rule and write detailed court opinions quickly and effectively. Waite was considered politically and socially moderate, and this stance was often reflected in his court rulings. For example, Waite's 1875 decision in Minor v. Happersett upheld a state's right to deny women suffrage. However, he supported womens' admission to the Supreme Court bar. Several cases followed the Civil War and Reconstruction, and when it came to cases that involved the Thirteenth, Fourteenth and Fifteenth amendments, he ruled in a manner that restricted the extension of federal powers.
In 1876, many Republican party members urged Waite to run for president, but he turned down the idea.
Death
Waite died of pneumonia on March 23, 1888, and his funeral attracted a large audience of friends and political supporters. He was remembered for his moderate and fair stance on political issues, and his support and advocacy for schools that educated African Americans.