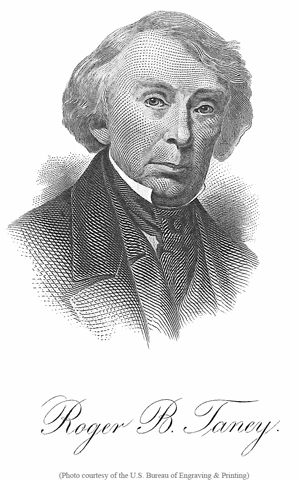 Roger B. Taney (1836-1864) was the fifth Chief Justice of the U.S. Supreme Court and the Court's first Roman Catholic justice. He is remembered for delivering one of the most controversial Supreme Court opinions in the United States' history in Dred Scott v. Sanford.
Early Life
Roger Taney was born on March 17, 1777 in Maryland, and attained most of his early education from tutors. Taney was the second son of a successful tobacco farmer. Because he was not going to inherit his family's property, he pursued an education. Taney attended Dickinson College at the age of 15. After graduating as class valedictorian, Taney went on to study law under Judge Jeremiah Chase of Maryland's General Court from 1796 to 1799. Taney was admitted to the bar in 1799 and went on to practice in Frederick, Maryland.
Political Aspirations
An active member of the Federalist Party, Taney served as a Maryland state Senator between 1816 and 1821, after which he returned to private practice in Baltimore for a short while.
In 1827, he served as the Attorney General of Maryland, but resigned his post in 1831 to first serve as acting U.S. Secretary of War and then later as President Andrew Jackson's nominee for U.S. Attorney General. Following a recess appointment as Secretary of the Treasury in 1833, Taney had funds removed from the Second Bank of the United States, which resulted in its eventual collapse. Following this, the U.S. Senate rejected Taney's nomination for Treasurer, marking the first time a presidential nominee was rejected for a Cabinet post. Taney once again returned to Baltimore to reestablish his law practice.
Chief Justice of the Supreme Court
A year after returning to Baltimore, President Jackson nominated Taney to be an associate justice on the Supreme Court, however, he would be rejected by the senate due to fears of his radical views.
The sudden death of Chief Justice John Marshall in July 1836 paved the way for Taney's nomination for that position. Despite powerful resistance, Taney was confirmed as Chief Justice in March 1836.
Taney is best recognized for his ruling in Dred Scott v. Sanford in 1857, which held that African American slaves and their descendants were not citizens of the United States or protected by the Constitution. Taney delivered the opinion despite his personal opposition to slavery and the fact he freed the slaves he had inherited. The decision sparked a great deal of controversy prior to the start of the Civil War. Following President Abraham Lincoln's suspension of the writ of habeas corpus in some areas, Taney ruled that this right lay with Congress, not the President.
Last Years
Taney's decision in Dred Scott left him with few allies on both sides of the political spectrum, and the Civil War left him impoverished. His ill health gave way in 1864 after 28 years on the Supreme Court.