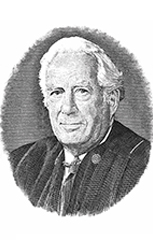 Warren Burger lived between 1907 and 1995. During his tenure as the country's 15th Supreme Court Chief Justice, he ruled on several relevant topics that are still being discussed in modern-day legal circles, including abortion, capital punishment and religion. He is also known for forcing President Nixon to hand over tapes of the Watergate scandal.
Early Life
Warren Burger was born on September 17, 1907, in St. Paul, Minnesota. Due to his family's financial hardship, Burger worked his way through school and attended night law classes to earn his degree in 1931 from St. Paul College of Law. In his early years of practice, he focused on civil and criminal law and also taught at St. Paul College of Law for more than a decade.
Political Ascendency
Burger became actively involved in politics and his work with the Minnesota Delegation played a role in getting Dwight D. Eisenhower elected President of the United States. Following Eisenhower's election, Burger was nominated to be the Assistant Attorney General of the U.S. In 1955, Burger sat on the U.S. Court of Appeals for the District of Columbia, where he wrote opinions and handed down decisions for 13 years.
Supreme Court Justice
President Lyndon B. Johnson nominated Burger to be Chief Justice of the Supreme Court in 1969, following Earl Warren's retirement. During his tenure as Chief Justice, Burger handed down many groundbreaking rulings. In Swann v. Charlotte-Mecklenburg Board of Education in 1971, the court ruled in favor of busing to help reduce de facto racial segregation in public school systems. In the Roe v. Wade case of 1973, Burger voted with the majority in ruling that privacy laws prohibited states from banning abortion. In one of his most notable rulings, the Supreme Court unanimously agreed that President Nixon must release tapes relating to the Watergate scandal.
Burger was a strong proponent of checks and balances, and his ruling in Immigration and Naturalization Services v. Chadha ensured that the separation of powers was kept intact.
Later Years
Burger retired from the Supreme Court in 1986 to head the U.S. Constitution Bicentennial Commission. He also founded the Supreme Court Historical Society and several other legal organizations across the country. He passed away in 1995 and is buried in National Arlington Cemetery.