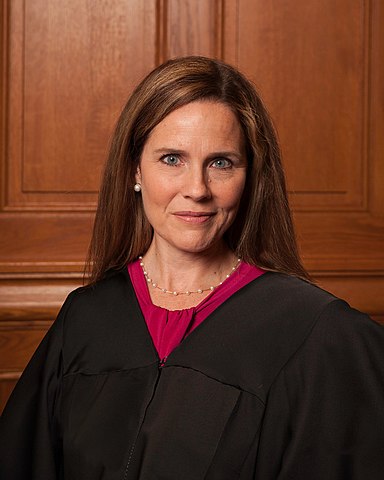 Amy Coney Barret was sworn in as an Associate Justice of the U.S. Supreme Court on October 27, 2020. She filled the seat left empty by the death of Justice Ruth Bader Ginsburg and became the fifth woman to serve on the country's highest court.
Early Life
Amy Vivian Coney was born January 28, 1972, in in New Orleans, Louisiana. She earned a bachelor's degree from Rhodes College in 1994. She graduated summa cum laude from Notre Dame Law School in 1997. Barret served as a law clerk for Judge Laurence H. Silberman of the D.C. Circuit Court of Appeals from 1997 to 1998. She later clerked for U.S. Supreme Court Justice Antonin Scalia during the 1998 Term.
She married Jesse M. Barrett in 1999. The couple has seven children: Emma, Vivian, Tess, John Peter, Liam, Juliet, and Benjamin.
Legal Career
From 1999-2001, Barrett worked as an associate at Miller, Cassidy, Larroca & Lewin in Washington, D.C., where she litigated constitutional, criminal, and commercial cases. She left private practice to become a law professor at George Washington University Law School and then her alma mater, Notre Dame Law School. During 15 years in academia, Barrett taught classes, including federal courts, constitutional law and statutory interpretation, and published numerous scholarly articles.
In 2010, Chief Justice John Roberts appointed Barrett to serve on the Advisory Committee for the Federal Rules of Appellate Procedure. Seven years later, Barrett was appointed a Judge of the United States Court of Appeals for the Seventh Circuit by President Donald Trump. During her short time on the court, Barrett wrote approximately 100 opinions and solidified her reputation as a textualist and originalist.
Nomination to the Supreme Court
Justice Barrett was nominated by President Donald Trump on September 29, 2020, to fill the seat vacated by Justice Ginsburg. Republicans, who supported the nomination due to Barrett's perceived conservative leanings, sought to confirm her before the November presidential election.
Barrett was confirmed by the Senate on October 26, 2020, by a vote of 52–48. She received her commission on October 26, 2020. She was sworn in by Justice Clarence Thomas one day later.