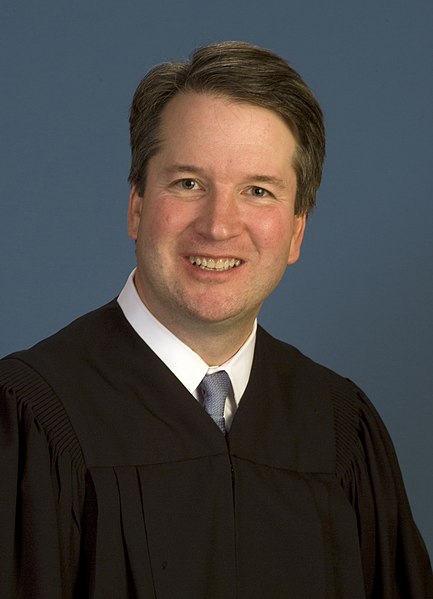 Brett M. Kavanaugh currently serves as an Associate Justice on the United States Supreme Court. He was nominated by President Donald J. Trump to fill the vacancy created by the retirement of Justice Anthony Kennedy.
Brett M Kavanaugh was born in Washington, D.C., on February 12, 1965. Kavanaugh received a B.A. from Yale College in 1987, graduating cum laude. He later attended Yale Law School, earning his J.D. in 1990. Justice Kavanaugh married Ashley Estes in 2004. The couple has two daughters, Margaret and Liza.
Justice Kavanaugh began his legal career as a law clerk for Judge Walter Stapleton of the Third Circuit Court of Appeals. He went on to clerk for Judge Alex Kozinski of the Ninth Circuit Court of Appeals from 1991-1992. In 1992, Kavanaugh completed a one-year fellowship with the Solicitor General of the United States Ken Starr. He next clerked for U.S. Supreme Court Justice Anthony M. Kennedy during the 1993 Term.
From 1994 to 1997, and for a period in 1998, Kavanaugh worked as Associate Counsel in the Office of Independent Counsel Kenneth W. Starr. In this capacity, Kavanaugh was a principal author of the Starr Report to Congress, which detailed the Independent Counsel's investigation of President Bill Clinton and called for his impeachment.
In 1999, Kavanaugh joined Kirkland & Ellis in Washington, D.C. From 2001 to 2003, he was Associate Counsel and then Senior Associate Counsel to the President. From 2003 to 2006, he was Assistant to the President and White House Staff Secretary under President George Bush. Kavanaugh was appointed a Judge of the United States Court of Appeals for the District of Columbia Circuit in 2006. He served until being nominated to the U.S. Supreme Court in 2018.
President Trump nominated Kavanaugh to the Supreme Court on July 8, 2018. Prior to his confirmation hearing, Palo Alto University Professor of Psychology Christine Blasey Ford contacted a Washington Post tip line to allege that Kavanaugh had sexually assaulted her while the two were in high school. Kavanaugh denied the allegations of sexual misconduct, which ultimately became public. Following a supplemental Senate Judiciary Committee hearing and FBI background investigation, the Senate confirmed Kavanaugh's nomination by a vote of 50–48. Justice Kavanaugh was confirmed as the 114th justice of the Supreme Court on October 6, 2018. Once on the bench, he became the first justice to replace a justice for whom he clerked.