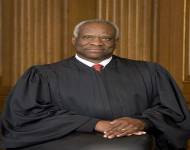 Clarence Thomas currently serves as an Associate Justice on the U.S. Supreme Court. He was appointed to the court in 1991 by President George H. W. Bush, and is the second African-American to serve as a Supreme Court Justice.
Early Life
Clarence Thomas was born June 23, 1948 in the small town of Pin Point, Georgia. Due to family issues, he and his brother were sent to live with relatives in the city of Savannah. His initially took steps toward joining the priesthood, graduating from St. John Vianney Minor Seminary in 1967 and then continuing on to Immaculate Conception Seminary in Missouri.
However, he later changed his mind about the priesthood and enrolled in Yale Law School. He graduated from the Ivy League school in 1974.
Legal Career
Following his graduation from law school, Thomas was admitted to the Missouri Bar and went to work for John Danforth, the Attorney General for the state. He also worked as a corporate lawyer for the agricultural firm Monsanto until 1980.
In 1981, Thomas was appointed Assistant Secretary for Civil Rights in the U.S. Department of Education, and also named the head of the Equal Employment Opportunity Commission by President Ronald Reagan.
He took his first judicial office in 1990 after being nominated to the U.S. Court of Appeals for the District of Columbia Circuit by President George H. W. Bush.
Supreme Court
Less than one year later, Thomas was nominated for the U.S. Supreme Court by Bush in 1991 to take over the seat vacated when Thurgood Marshall retired. After long hearings regarding his nomination, he was confirmed by the Senate in a narrow 52 to 48 vote.
During his time on the Court, Thomas has consistently sat on the conservative side of issues, often siding with Justice Antonin Scalia and frequently dissenting from the majority opinion. He also asks notably few questions during cases. Some of his decisions have focused on limiting the power of the federal government in favor of the states. He has also voiced opposition to affirmative action and voted in favor of first amendment rights on multiple occasions.
He wrote an autobiography and memoir in 2007, called My Grandfather's Son. Thomas married his current wife, Virginia Lamp, in 1987. He has one child from a previous marriage.