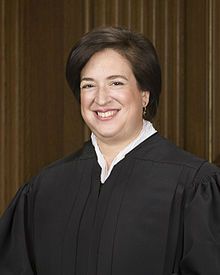 Elena Kagan currently serves as an Associate Justice on the United States Supreme Court, and has an extensive legal record that includes becoming the first female Solicitor General.
Early Life
Elena Kagan was born on April 28, 1960 in New York City. She received her Bachelor's degree from Princeton University and a Masters of Philosophy from Worcester College in Oxford, England. She later received her juris doctor from Harvard University in 1986. After passing the bar, she clerked for Judge Abner Mikva of the United States Court of Appeals for the District of Columbia in 1987, and for Justice Thurgood Marshall of the U.S Supreme Court in 1988.
Legal Career
Kagan worked in private practice for several years and also served as a law professor at the University of Chicago Law School. During her tenure as a professor, she published several articles relating to free speech and first amendment cases, often analyzing hate speech and flag and draft-card burning. In 1995, Kagan began working as Associate Counsel for President Bill Clinton, who nominated her to the U.S. Court of Appeals for the District of Columbia Circuit in 1999. However, her nomination lapsed and she became a visiting professor at Harvard Law School.
Kagan became Dean of Harvard Law School in 2003 and was credited with improving capital, bringing in new professors and creating a more student-centric environment. Between 2005 and 2008, Kagan served as a member of the Research Advisory Council of the Goldman Sachs Global Markets Institute. In 2009, Kagan was nominated by President Barack Obama to become the country's first female Solicitor General.
Supreme Court
In 2010, President Obama nominated Kagan to the Supreme Court to replace Justice John Paul Stevens. She is the first Justice to be appointed to the court without previous experience as a judge since William Rehnquist. She is also one of the youngest to serve on the Supreme Court. Kagan has been praised by her colleagues for her ability to explain constitutional language in a simplified manner that all individuals can understand. Her extensive publishing during her tenure as a law professor has also earned her a reputation as an exceptional writer. She is considered to be moderately liberal and her court opinions have somewhat reflected this assignment.