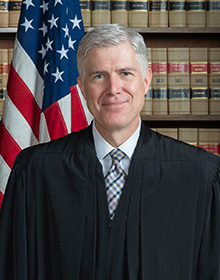 Neil Gorsuch currently serves as an Associate Justice on the United States Supreme Court. He was nominated by President Donald J. Trump to fill the vacancy created by the death of Justice Antonin Scalia.
Early Life
Neil M. Gorsuch was born in Denver, Colorado, August 29, 1967. He received his B.A. from Columbia University and graduated with honors from Harvard Law School. After law school, Gorsuch attended Oxford University and earned his Doctorate in Philosophy. Judge Gorsuch clerked for two former justices of the U.S. Supreme Court – Justice Byron White and Justice Anthony Kennedy. He and his wife Louise have two daughters.
Legal Career
Justice Gorsuch worked for the Washington, D.C. law firm of Kellogg, Huber, Hansen, Todd, Evans & Figel for a decade, rising through the ranks to become a partner and gaining a reputation as an accomplished litigator. After years of private practice, Gorsuch went on to work for the U.S. Department of Justice in 2005 as a Principal Deputy Associate Attorney General.
One year later, President George W. Bush nominated Gorsuch to the Tenth Circuit Court of Appeals. Justice Gorsuch served on the Standing Committee on Rules for Practice and Procedure of the U.S. Judicial Conference, and as chairman of the Advisory Committee on Rules of Appellate Procedure. He also gained a reputation as an originalist, placing an emphasis on the Framer's original intent when interpreting the U.S. Constitution.
In 2006, Justice Gorsuch published a book, The Future of Assisted Suicide and Euthanasia, in which he argued against legalization. Justice Gorsuch has also taught law as a professor at the University of Colorado Law School.
Supreme Court
On January 31, 2017, President Trump nominated Gorsuch to fill the Supreme Court seat vacancy created by Justice Scalia's death. Given his "conservative" leanings and the Senate Republican's refusal to consider President Barak Obama's nomination of Judge Merrick Garland, Senate Democrats largely opposed Gorsuch's nomination. However, Republican were able to defeat the filibuster by invoking the so-called "nuclear option" and lowering the number of votes needed to advance the nomination from 60 to 50.
Justice Gorsuch was confirmed as the 113th justice of the Supreme Court on April 7, 2017. Once on the bench, he became the first justice to serve alongside a justice for whom he clerked.