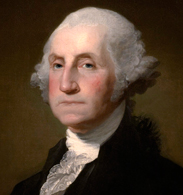 George Washington reluctantly rose from the Commander-in-Chief of the Continental Army during the Revolutionary War to the first President of the United States of America. While he did not seek out the role of the new nation's first leader, he successfully met the challenges it faced.
Early Career
George Washington was born into a Virginia planter family. He gained his first military experience in the French and Indian War. When the War for Independence broke out, he relentlessly fought against the British, ultimately leading the rebel troops to victory. After the United States officially secured its independence from Britain, Washington sought to retire from public life. He was soon called back into service and served as one of Virginia's delegates to the Constitutional Convention of 1787.
Presidential Tenure
The first Electoral College unanimously elected Washington to serve as the country's first president in 1789. He is the only President to receive a vote from every elector to the Electoral College. Washington was unanimously elected to a second term in 1792.
As president, Washington advocated for a strong national government to unite the states. Always aware that his decisions would establish precedent, he rejected any formal title in favor of being called "Mr. President." He wrote to James Madison: "As the first of every thing, in our situation will serve to establish a Precedent, it is devoutly wished on my part, that these precedents may be fixed on true principles." Washington also established the tradition of the inaugural address and the cabinet system.
Washington's Secretary of State Thomas Jefferson and Secretary of the Treasury Alexander Hamilton were often at odds ideologically. However, Washington never officially sided with a specific political party, often espousing the evils of partisan politics.
On the domestic front, Washington worked with Hamilton to reduce the country's debt and build a strong central banking system. He also successfully put down the Whiskey Rebellion, a revolt against a tax on distilled spirits that threatened the fragile country. As the leader of a young nation, Washington also believed in maintaining neutrality in foreign affairs, refusing to support the British or the French in the French Revolutionary Wars. He also helped secure the Jay Treaty and normalize relations with Britain in 1795.
Death
Washington died on December 14, 1799 at the age of 67. As Henry Lee wrote in his eulogy, Washington was "first in war, first in peace, and first in the hearts of his countrymen."