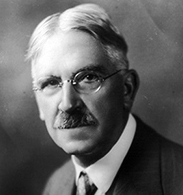 John Dewey was a psychologist, philosopher, and educator whose ideas were central to the Progressive Movement and helped spur a number of key reforms. His focus on experienced-based learning in the classroom is one of his most lasting accomplishments.
Early Life
Dewey was born in Vermont in 1859. After graduating from the University of Vermont, he received his PhD from Johns Hopkins University in 1884. He went on to hold a number of professorships, teaching at Columbia University from 1905 until his retirement in 1929. In 1899, John Dewey was elected president of the American Psychological Association. Six year later, he became president of the American Philosophical Association.
Early Career
In 1919, Dewey helped found New School for Social Research, a progressive school that promoted the free exchange of intellectual ideas. Throughout his career, Dewey wrote and lectured frequently on a wide variety of subjects, including psychology, philosophy, education, social theory, religion, and politics.
Advocacy for Democracy
Dewey was also a tireless proponent of democracy and advocated for it to be implemented from the ballot box to the classroom. He believed that democracy was not confined to government, but should pervade all aspects of society as a means of bringing people of all backgrounds together to share similar values and interests and interact productively with each other.
With regard to its role in education, he wrote:
An embryonic community life, active with types of occupations that reflect the life of the larger society and permeated throughout with the spirit of art, history and science. When the school introduces and trains each child of society into membership within such a little community, saturating him with the spirit of service, and providing him with instruments of effective self-direction, we shall have the deepest and best guarantee of a larger society which is worthy, lovely and harmonious.
Dewey was also outspoken politically, arguing that democracy had lost its way in wake of the Industrial Revolution. He was particularly critical of the alignment of the country's political parties with the interests of big business and the accumulation of large wealth in the hands of a powerful few Americans.