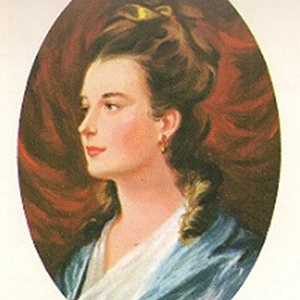 Martha Wayles Skelton Jefferson was the wife of Thomas Jefferson. She died in 1782, nineteen years before he was elected President of the United States. She is the first of five women who were married to men who would ascend to the presidency after their deaths.
Early Life
Martha Wayles was born on October 19, 1748 on "The Forest" plantation, in Charles City County, Virginia. At the age of 18 years old, she was married to Bathurst Skelton. They had one son before Skelton died in 1768. Their son John later died in 1771.
Martha married Thomas Jefferson on January 1, 1772. Shortly after their marriage, they moved from the Forest to a one-room house that would later become Monticello. Martha and Thomas Jefferson had six children together. Only two —daughters Martha and Mary — would survive into adulthood.
While there are few records regarding Martha, she was likely highly educated. Historical accounts also suggest that she possessed great musical talent and took an active role in overseeing the management of Monticello. Her granddaughter Ellen Randolph Coolidge described Martha as "… a very attractive person … a graceful, ladylike and accomplished woman."
First Lady of Virginia
Martha served as First Lady of Virginia during her husband's governorship from 1779 to 1781. To support the Revolutionary War, Martha coordinated a drive among the women of Virginia to collect money and supplies for the state's soldiers in the Continental Army. In addition to soliciting funds and donations from other prominent citizens, Martha published an appeal in the Virginia Gazette. However, her health prevented her from being more involved in the effort.
Death
Martha died four months after her daughter Lucy was born (she later died of whopping cough at the age of two). While the exact cause of her death is unknown, it is suspected that she never fully recovered from childbirth.
Thomas Jefferson was devastated by the death of his wife, writing in a letter to the Marquis de Chastellux, "A single event wiped away all my plans and left me a blank which I had not the spirits to fill up." Martha asked Thomas Jefferson to never marry again, a request that he fulfilled. However, he is suspected to have had a relationship with Sally Hemings, one of the slaves he and Martha inherited upon her father's death.