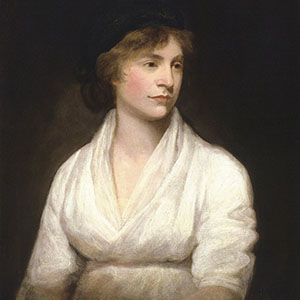 Mary Wollstonecraft was a feminist writer and vocal proponent of women's rights, particularly with regard to education. Her most well-known work, A Vindication of the Rights of Woman, later influenced American suffragists and equal rights advocates.
Early Life
Mary Wollstonecraft was born on April 27, 1759, in Spitalfields, London. She spent her childhood trying to protect her mother and sisters from her abusive father. In 1778, Wollstonecraft left home. She returned in 1780 to care for her sick mother and later established a school, along with her sister Eliza and her best friend, Fanny Blood. Wollstonecraft's teaching experience is reflected in her pamphlet, Thoughts on the Education of Daughters (1787).
In 1788, Wollstonecraft moved to London to work as a translator for publisher James Johnson. She translated works by other authors and also wrote her own articles for his Analytical Review. Johnson also published Wollstonecraft's novel, Mary: A Fiction (1788), which was inspired by the death of Fanny Blood.
Feminist Writings
In 1792, Wollstonecraft published A Vindication of the Rights of Woman. Her essay was a direct response to Charles Maurice de Talleyrand-Périgord's report to the French National Assembly in 1791, which argued that women should only receive a domestic education. She even dedicated it to him, writing: "Having read with great pleasure a pamphlet which you have lately published, I dedicate this volume to you; to induce you to reconsider the subject, and maturely weigh what I have advanced respecting the rights of woman and national education."
Wollstonecraft rejected the notion that women are incapable of rationality. She argued that it only appears that way because men have prevented them from receiving an education and encouraged them to be frivolous. "Make women rational creatures, and free citizens, and they will quickly become good wives; – that is, if men do not neglect the duties of husbands and fathers," she wrote. Wollstonecraft's revolutionary ideas were controversial. While they did not spur any immediate reforms, many of her ideas did come to fruition much later.
Personal Life
In 1792, Wollstonecraft traveled to Paris to observe the French Revolution. During her time there, she began a relationship with Captain Gilbert Imlay, an American merchant. Though they never married, she gave birth to a daughter, Fanny, in 1794.
When the relationship ended, Wollstonecraft returned to England and resumed working for Johnson. She also joined a group of radical intellectuals, which included William Godwin, Thomas Paine, Thomas Holcroft, and William Blake. Wollstonecraft became involved Godwin, the founder of philosophical anarchism. They did not marry until after she became pregnant.
Wollstonecraft died in 1797 at the age of 38, just 11 days after the birth of her second daughter. Her daughter, Mary Wollstonecraft Godwin, followed in the footsteps of her mother, writing Frankenstein under the name Mary Shelley.
Following her death, Wollstonecraft became most famous for her unconventional personal life rather than her contributions to the feminist movement. However, her work was resurrected by women like Elizabeth Cady Stanton and Margaret Fuller in their fight for women's rights. Today, she is recognized for her groundbreaking contributions to the feminist movement.