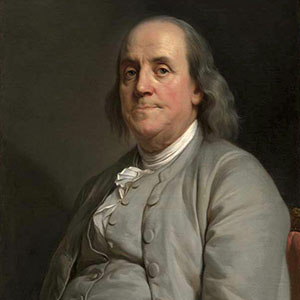 Benjamin Franklin was a prolific writer. He penned newspaper articles and books and played a role in writing the Declaration of Independence. Richard Saunders was Franklin's most famous pen name, which he used it to write the popular Poor Richard's Almanac. While he first used the pseudonym to remain anonymous, Franklin eventually became linked to the famous publication.
Early Writing
Benjamin Franklin had very little formal schooling and largely taught himself to read and write. He became a published author at the age of 14 when his brother unknowingly published 14 letters written by Franklin in his newspaper, the New England Courant. To get the letters published, Franklin used the pseudonym Silence Dogood, who purported to be a middle-aged widow with clever wit and opinions on a wide range of topics.
Poor Richard's Almanac
In the colonial days, the almanac was a widely-consulted resource. Franklin began writing his own in 1732. He didn't write under his own name, but rather assumed the pen name Richard Saunders. As described by the Benjamin Franklin Historical Society:
Richard Saunders was an English physician and astrologist who wrote under the pen name of Cardanus Rider which in rearranged letters is Richard Saunders. Saunders published Rider's British Merlin, a popular almanac published from 1626 until the 1830s. The name Poor Richard was adapted from another British almanac, Poor Robin which was first published in 1664.
In contrast to his own persona, Franklin described "Richard" as a country dweller who lived a simple life. However, he shared Franklin's sense of humor and respect for hard work. Poor Richard's Almanac contained a wide variety of information, ranging from weather forecasts to historical facts. However, it is most famous for its maxims, such as "haste makes waste" and "early to bed and early to rise, makes a man healthy, wealthy, and wise," and "well done is better than well said."
Poor Richard's was wildly successful. Franklin viewed the almanac as a useful resource for common people who could not afford books. He published the almanac annually for the next 26 years, selling 10,000 copies per year.
After he stopped writing the Poor Richard's Almanac, Franklin published Father Abraham's Sermon, which is more commonly known as The Way to Wealth. Franklin also authored an autobiography, which was published following his death.