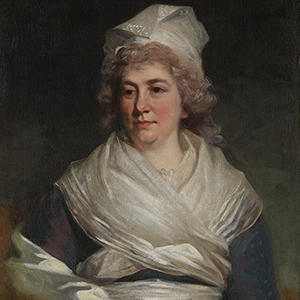 Sarah "Sally" Franklin Bache was the only daughter of Benjamin Franklin. She also made her own contributions to the early history of our country, organizing efforts to support soldiers during the American Revolution.
Early Life
Sarah Franklin was born to Benjamin Franklin and Deborah Read Franklin on September 11, 1744, in Philadelphia, Pennsylvania. Born into a wealthy family, Franklin was well-educated and excelled at music. Her father described her as "affectionate, dutiful and industrious." Little else is known about her early life.
On October 29, 1767, Sarah married Richard Bache. The Penn Chronicle and Universal Advertiser acknowledged the wedding, writing: "Last Thursday evening Mr. Richard Bache of this city, Merchant, was married to Miss Sally Franklin, a young lady of distinguished merit. The next day all the ships in the harbour displayed their colors on the happy occasion." Sarah and Richard Bache lived with Benjamin and Deborah Franklin, and the couple had eight children.
American Revolution
During the American Revolution, Bache coordinated relief efforts as the head of the Ladies Association of Philadelphia. She oversaw the sewing of more than 2,000 shirts for the American soldiers. After sending shirts to the army's winter quarters at Valley Forge, she wrote to General George Washington:
[W]e packed the shirts in their Boxes and delivered them to Coil Miles, with a request that he would send them to Trenton immediately lest the river should close, where they now mail your Excellency's orders; there are two thousand and five in number; they would have been at Camp long before this, had not the general Sickness which has prevailed prevented, we wish them to be worn with as much Pleasure as they were made…
After her mother died in 1774, Bache took over management of the household. She also assumed the hostess duties associated with her father's political position.
Later Life
After Franklin's death, Bache and her husband traveled to Europe, paying for the trip with her significant inheritance. In 1794, Bache and her husband moved to a farm outside the city on the Delaware River. They lived there for thirteen years before Bache's cancer diagnosis forced them to return to Philadelphia. She died on October 5, 1808, at the age of 64. Bache is buried in Philadelphia, next to her parents.