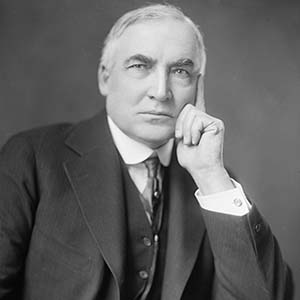 Warren G Harding served as 29th President of the United States. The Republican was in office from 1921 to 1923, dying of an apparent heart attack before he could complete his term.
Early Years
William G Harding was born on November 2, 1865, in Blooming Grove, Ohio. He was the oldest of eight children. After graduating from Ohio Central College in 1882, Harding moved to Marion, Ohio. He entered the newspaper industry as a reporter and went on to become a publisher. In 1884, he and several business partners purchased the struggling Marion Star and turned it into a successful publication. In 1891, Harding married Florence Kling De Wolfe, a divorcee with one child.
Political Career
In 1898, Warren G Harding launched his political career by winning a seat in the Ohio Senate. After serving until 1903, he was elected lieutenant governor, serving from 1904 to 1906. Harding lost the gubernatorial election four years later. In 1912, he first achieved national recognition when he gave a speech nominating President William Taft for a second term.
In 1914, Harding was elected to the U.S. Senate. When delegates deadlocked at the 1920 Republican Convention, Harding emerged as the compromise candidate. Calvin Coolidge was named his running mate. The two Republicans were up against the Democratic ticket of James Cox and Franklin D. Roosevelt.
Harding was a charismatic public speaker. Before his nomination, Harding stated: "America's present need is not heroics, but healing; not nostrums, but normalcy; not revolution, but restoration; not agitation, but adjustment; not surgery, but serenity; not the dramatic, but the dispassionate; not experiment, but equipoise; not submergence in internationality, but sustainment in triumphant nationality…."
Relying on a campaign that was largely conducted from Harding's front porch, Harding and Coolidge won in the largest landslide up to that point, garnering approximately 60 percent of the popular vote and overwhelmingly winning the electoral vote (404-127).
Presidency
Once in office, Harding largely stayed true to his campaign promise — "Less government in business and more business in government." He reduced taxes; imposed high protective tariffs; and restricted immigration. Harding enacted the Budget and Accounting Act of 1921, which overhauled the federal budget system. He also created a new government agency, the General Accounting Office (GAO), to audit government expenditures.
By 1923, President Harding became aware that several members of his Administration were using their official positions for personal gain. He remarked: "My…friends…they're the ones that keep me walking the floors nights!" Harding struggled over whether it was best for the Republican Party and the country to publicly disclose the corruption. However, he never got the change to act.
In August of 1923, Harding died of a heart attack on a West Coast trip. The scandals of his Administration did not fully come to light until after his death. The most significant, Teapot Dome, revealed that Secretary of the Interior Albert Fall rented public lands to oil companies in exchange for gifts and personal loans. Harding was succeeded by Vice President Calvin Coolidge.