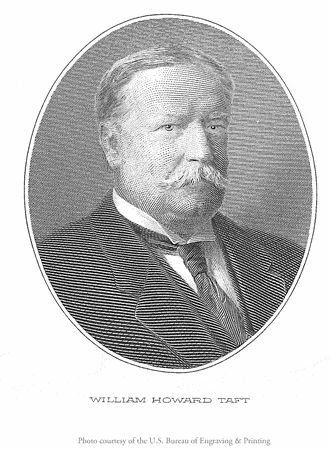 William Howard Taft lived between 1857 and 1930, and was the 27th President of the United States as well as the country's 10th Supreme Court Chief Justice. He is the only person in history to serve as both a U.S. President and Chief Justice.
Early years
William Taft was born on September 15, 1857, near Cincinnati, Ohio. Following family tradition, Taft matriculated at Yale College, where he was a member of the secret Skull and Bones society, and later attended Cincinnati Law School. After being admitted to the bar in 1880, Taft served in a number of posts, including Collector of Internal Revenue in 1882 and judge of the Ohio Superior Court in 1887. He became the youngest Solicitor General of the United States in 1890 and later served on the Sixth Circuit Court of Appeals in 1891.
Between 1900 and 1903, Taft served a variety of diplomatic interests in the Philippines, Rome, Spain and European countries. However, he was reluctant in these posts, noting early on that he wanted to be appointed Chief Justice of the Supreme Court. Between 1904 and 1908, Taft also served as the U.S. Secretary of War.
Presidency
Taft was encouraged by President Theodore Roosevelt to run for President in the years leading up to the 1908 election, and Taft was elected by a comfortable majority. Taft served one term – 1909 to 1913 – during which time he created the U.S. Chamber of Commerce and proposed an amendment allowing the federal government to tax incomes. The latter was approved by Congress and became the Sixteenth Amendment to the Constitution. Taft ran for reelection in 1912. However, his unpopularity won him only eight electoral votes and his loss was the worst defeat in history for a U.S. President seeking reelection.
Supreme Court
Following his presidential defeat, Taft served as Chancellor Kent Professor of Law and Legal History at Yale and was active in promoting peace during WWI. In 1921, he was appointed Chief Justice of the Supreme Court and considered it the highest point in his career. He wrote 256 court opinions during his tenure and successfully lobbied for the construction of a Supreme Court building separate from the influence of Congress. In one of his more well-known cases, he ruled in Olmstead v. United States that evidence obtained with a warrant from wiretapped private telephone conversations did not violate an American's Fourth Amendment right to unreasonable searches and seizures. The opinion was later overturned in Katz v. United States.
Death and Legacy
Taft retired from his Supreme Court post in February 1930 due to health concerns, and died the following month. He was the first President to be buried in Arlington National Cemetery. There are several universities, historical societies and statues named in remembrance of Taft and the political positions he held during his life.