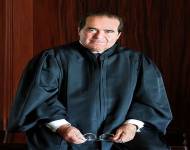 Antonin Scalia was an Associate Justice of the United States Supreme Court and at the time of his death was serving as Senior Associate Justice.
Early Life
Antonin Scalia was born on March 11, 1936 in Trenton, New Jersey. Scalia received his undergraduate degree in 1957 from Georgetown University, where he graduated as valedictorian, and later earned his juris doctor at Harvard Law School. He worked at a Cleveland law firm for six years before leaving the practice in 1967 to teach law at the University of Virginia.
Career
Starting in 1971, Scalia served several public service roles under two presidential administrations. President Richard Nixon appointed Scalia to serve as general counsel for the Office of Telecommunications Policy, and between 1972 and 1974, he was chairman of Administrative Conference of the United States. In 1974, he was nominated as Assistant Attorney General for the Office of Legal Counsel, a position he was renominated for by President Gerald Ford following Nixon's resignation. Scalia left public office following Ford's defeat, and taught at the University of Chicago Law School between 1977 and 1982.
In 1982, President Ronald Reagan nominated Scalia to sit on the United States Court of Appeals for the District of Columbia Circuit.
Supreme Court Justice
William Rehnquist's nomination to Chief Justice opened a vacancy in the high court and President Reagan nominated Scalia to serve as a Justice in 1986. Scalia was known for his strict stances on textualism and originalism. Scalia was a strong advocate of clearly separating powers between the government branches and his earliest court rulings reflect this belief. In cases between the federal government and states, Scalia typically upheld states' rights. In cases involving individual rights, Scalia was renowned for striking down potential laws that would create distinctions on the basis of race, gender and sexual orientation. He strongly dissented from majority opinions upholding affirmative action. Further, Scalia was known for taking a hard stance against criminal defendants, and advocated for striking down Miranda v. Arizona and upholding the constitutionality of the death penalty. Scalia had a reputation for being inquisitive and making more comments than some of his other legal counterparts.
Death
Justice Scalia died of natural causes on February 13, 2016 in Shafter, Texas while on a quail hunting trip. His death opened up a vacancy in the Supreme Court that has yet to be filled.