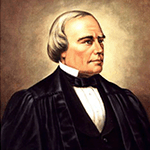 Benjamin Robbins Curtis (1851-1857)
Benjamin Robbins Curtis lived from 1809 to 1874.
Early Life
Curtis was born on November 4, 1809 in Watertown, Massachusetts to Lois Robbins and Benjamin Curtis, who was the captain of a merchant vessel. As a young boy, Curtis attended common school in Newton. Following common school, he attended Harvard College (now Harvard University). Curtis graduated from Harvard in 1829 as a member of the Phi Beta Kappa society.
Legal Career
Curtis earned his law degree from Harvard Law School in 1831, and was admitted to the bar the following year. Shortly thereafter, Curtis moved to Boston, where he joined the Charles P. Curtis law firm. During his time spent at the firm, he became an expert in both admiralty and patent law. In 1846, Curtis became a member of the Harvard Society of Fellows. He was elected to the Massachusetts House of Representatives three years later.
Appointment to the Supreme Court
On September 22, 1851, following the death of Levi Woodbury, Curtis received a recess appointment to the Supreme Court from President Millard Fillmore. Notably, he became the first Supreme Court Justice to have earned a law degree—his predecessors had either served as apprentices, or had attended law school without receiving a degree.
Curtis is best known for being one of two Supreme Court Justices that dissented in Dred Scott v. Sandford (1857). In his dissent, he argued against the majority's denial of the bid for emancipation on behalf of slave Dred Scott. Curtis believed that all African American citizens in both the North and South were among the "people of the United States" whom the Constitution addressed. Deeply bothered by ruling of the case, Curtis resigned from the Supreme Court on September 30, 1857—making him the only Supreme Court Justice to have resigned on a matter of principle.
Later Years
Following his resignation, Curtis returned to private practice in Boston. There he became one of the nation's "leading lawyers," arguing several cases before the Supreme Court. In 1868, Curtis acted as chief counsel for President Andrew Johnson during his impeachment trial. On behalf of Jackson, Curtis argued that an impeachment was a judicial act, rather than a political one, and it should therefore require a full hearing of evidence.
Death
Curtis passed away on September 15, 1874. He is buried at Mount Auburn Cemetery in Cambridge, Massachusetts.
Notable Cases
Dred Scott v. Sandford (1857)