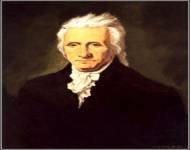 Early Life
Gabriel Duvall was born on December 6, 1752, in Prince George's County, Maryland. He served as a private the Maryland militia during the Revolutionary War in the mid 1770s. After his service, he returned to his hometown and worked as a clerk for Maryland Convention and the Maryland Council of Safety. Duvall was admitted to the bar in 1778 and maintained a private practice while participating in political affairs.
Early Career
In 1782 Duvall won election to the Maryland State Council, and from 1787 to 1794 he served in the House of Delegates. Duvall was nominated to represent Maryland in the Constitutional Convention in Philadelphia in 1787 but declined to participate.
In 1794 Duvall was elected to the Maryland House of Representatives as a member of the Democratic-Republican Party. Two years later in 1796 he was nominated to the Maryland Supreme Court, where he served for the next six years. In 1802, President Jefferson appointed Duvall to serve as the U.S. Comptroller of the Treasury, legal advisor to the Secretary of the Treasury.
Supreme Court
President Madison nominated Duvall to the United States Supreme Court in 1811 to fill the vacant seat of Justice Samuel Chase. Although John Quincy Adams was Madison's first choice to fill the seat, Adams declined in order to serve as a diplomat to Russia. Justice Duvall officially began his post on November 23, 1811 at the age of 59.
The nomination of Justice Duvall came on the same day as Justice Story's nomination, both of the Democratic-Republican Party. When the two Justices took oath, the majority of the court previously belonging to the Federalists turned to the Democratic-Republicans.
As Justice, Duvall did not make a significant contribution to the court. He served primarily as an ally to Chief Justice John Marshall, only voting differently on two occasions. Justice Duvall only wrote seventeen opinions during his twenty-three years on the Court, all coming in minor commercial and maritime cases.
One notable case from Duvall's tenure on the Supreme Court came in the 1812 Queen and Child v. Hepburn case. In this case Justice Duvall supported black rights in regards to hearsay testimony.
Justice Duvall resigned from the Supreme Court on January 12, 1835 due to poor health and issues with deafness. Some historians claim one reason for his lack of contribution on the Court came from his impaired hearing. For many years, Duvall refrained from relinquishing his seat on the court because he feared the seat would be filled by an overly political appointment. When President Jackson offered to appoint fellow Marylander Roger B. Taney to take the seat, Duvall decided to finally resign.
Death
Duvall lived for another nine years following his retirement from the Supreme Court. He died near his hometown in Prince George's County, Maryland on March 6, 1844 at the age of 91.
Notable Cases:
Dartmouth College Case (1819)
Queen and Child v. Hepburn (1812)
Le Grand v. Darnall (1829)