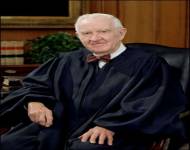 Early life
John Paul Stevens was born on April 20, 1920 in Chicago, Illinois. He was born into an upper class family, deriving their wealth from insurance and hotel businesses. His family owned their own hotel in Chicago, the Stevens Hotel. Stevens' interest in the judicial system arose from his father's conviction of embezzlement, which was later overturned.
In 1941, Stevens graduated from the University of Chicago with a bachelor of arts in English. A year later, he married Elizabeth Sheeren, with whom he had four children. During World War II, Stevens enlisted in the Navy and was award the Bronze Star for his work as a cryptographer.
After returning from war, he attended Northwestern University School of Law. Two years later, he graduated at the top of his class. After graduation, he clerked for Supreme Court Justice Wiley B. Rutledge.
Career
After his clerkship, Stevens joined a Chicago antitrust law firm. After a few years, he left and started his own firm. As his reputation grew, he was appointed as special counsel for the House of Representatives and the United States Attorney General. In 1970, after achieving success as special counsel, Richard Nixon appointed Stevens to the United States Court of Appeals Seventh Circuit.
Supreme Court
In 1975, Stevens was appointed by Gerald Ford to fill the vacancy left by William O. Douglas on the United States Supreme Court. His nomination was affirmed by the United States Senate and Stevens took his oath on December 19, 1975.
Initially thought of as a conservative, Stevens could not be pigeonholed during his time on the bench. He took an individualist approach and fluctuated between conservative and liberal views. During his final years on the Roberts' court, Stevens consistently ruled as a moderate.
On June 29, 2010, Stevens retired from the Supreme Court. After 34 years, 6 months, and 10 days of service, Stevens is tied for second longest continuous tenure on the bench.
Notable cases
FCC v. Pacifica Foundation, 438 U.S. 726 (1978).
Wrote majority opinion holding that the FCC had the power to regulate content transmitted over the airwaves. It gave the FCC great latitude to bar indecent speech during hours children regularly watch or listen.
Sony v. Universal Studios, 464 U.S. 417 (1984).
Wrote majority opinion holding held consumers could record programs for their own personal use without perpetrating copyright infringement. Set the stage for technological advancement of DVR.
Clinton v. Jones, 520 U.S. 681 (1997).
Wrote majority opinion holding a sitting president can be civilly sued for conduct prior to presidency. Additionally, it held that separation of powers does not require the suit to be withheld until after the president's term concludes.
Atkins v. Virginia, 536 U.S. 304 (2002).
Wrote majority opinion holding the execution of a mentally disabled person violated the Eighth Amendment because it was cruel and unusual punishment.
Kelo v. City of New London, 545 U.S. 469 (2005).
Wrote majority opinion holding the city's use of eminent domain was constitutional, even though the land was not taken for government purposes. The land was taken a private corporation, which economic revitalization the area through redevelopment. The court found that economic revitalization fell within a taking for "public purpose."
Bush v. Gore, 531 U.S. 98 (2000).
Wrote dissent believing the court and its justices should not decide an election.
Citizens United v. Federal Election Commission, 558 U.S. 310 (2010).
In a 90 page dissent, Stevens wrote that corporations must be kept out of the democratic process because they undermined the principles of self-government.
Later years
Since retiring from the Supreme Court, Stevens has written two books: a memoir and a critique of the United States Constitution. In 2014, Stevens spoke out against the Supreme Court's recent opinion which deregulated political campaign financing.