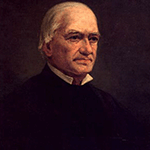 Joseph Philo Bradley (1870-1892)
Lived from 1813 to 1892.
Early Life and Legal Career
Joseph P. Bradley was Born in Berne, New York to Philo and Mercy Bradley. The oldest of eleven children, Bradley was born to humble beginnings. He attended local schools, and began teaching at the age of 16. In 1833, Bradley enrolled in Rutgers University, where he initially studied ministry before switching to law. Bradley graduated from Rutgers in 1836, and was admitted to the bar 1839. He began his own private practice in New Jersey, where he specialized in patent and railroad law. His aptitude for learning and his profound commitment to education continued even after he graduated. Bradley's personal library consisted of approximately 16,000 books.
Appointment to the Supreme Court
Bradley was nominated to the Supreme Court by President Ulysses S. Grant on February 7, 1870. During his time on the bench, Bradley took a broad view of the national government's powers under the Commerce Clause, but interpreted the Fourteenth Amendment somewhat narrowly. He sided with the majority in several cases that denied national protection for the rights of African Americans, such as the Civil Rights Cases (1883). Bradley remained on the bench until 1891, when he became greatly weakened by disease and was forced to retire.
Death
Bradley died in 1892 in Washington, D.C. He is buried in Mount Pleasant Cemetery in Newark, New Jersey.
Notable Cases
Slaughterhouse Cases (1873)
Bradwell v. Illinois (1873)
Civil Rights Cases (1883)
Hans v. Louisiana (1890)