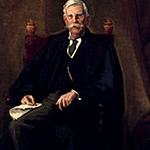 Oliver Wendell Holmes, Jr. (1902-1932)
Oliver Wendell Holmes, Jr. served as an Associate Justice of the Supreme Court from 1902 until 1932. Holmes helped move American legal thinking towards legal realism and is one of the most widely cited Supreme Court justices in history. Holmes was known for his support of economic regulation, his opposition to the doctrine of natural law and was an advocate for broad free speech under the First Amendment.
Early Life and Legal Career
Holmes was born on March 8, 1841 in Boston, Massachusetts. He attended Harvard College and supported Boston's thriving abolitionist movement of the 1850's. During his final year at Harvard, Holmes joined the Massachusetts militia and fought in several battles during the Civil War. After the war, he returned to Boston, attended Harvard Law School and was admitted to the bar in 1866.
Holmes practiced admiralty law and commercial law in Boston for fifteen years. In 1881, he published The Common Law, which remains an important contribution to jurisprudence to this day. In the book, Holmes espoused his legal realist views, stating "the life of the law has not been logic; it has been experience." In 1882, Holmes was nominated to the Supreme Judicial Court of Massachusetts. Years later, following the death of Walbridge A. Field in 1899, Holmes became Chief Justice of the Massachusetts Supreme Judicial Court.
Appointment to the Supreme Court
On August 11, 1902, Holmes was nominated to the Supreme Court by President Theodore Roosevelt. Holmes served as Chief Justice of the Court, briefly, between the time William Howard Taft left the bench on February 3, 1930 and Charles Evans Hughes took office on February 24, 1930. During his time on the bench, Holmes wrote several memorable opinions surrounding the World War I Espionage Act of 1917 and the Sedition Act of 1918.
Specifically, Holmes wrote for a unanimous court in Schenck v. United States, in which he declared that the First Amendment should not be interpreted to provide an absolute right and would not, for instance, protect someone who falsely shouted "fire" in a theater. Holmes also authored the opinion in Silverthorne Lumber Co. v. United States, in which he declared that any evidence obtained from an illegal search was inadmissible in court. In 1927, Holmes also wrote for the majority in Buck v. Bell, which upheld the Virginia Sterilization Act of 1924.
In 1972, Holmes' summer house in Beverly, Massachusetts was designated a National Historic Landmark. He is particularly remembered for his rare, but authoritative dissents, from which he became known as "The Great Dissenter."
Death
Holmes retired from the Court in 1932 at the age of ninety, making him the oldest justice to serve in the Court's history at that time. He died on March 6, 1935 and is buried at Arlington National Cemetery.