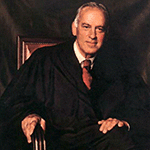 Potter Stewart (1958-1981)
Lived from 1915 to 1985.
Early Life and Legal Career
Potter Stewart was born in Jackson, Michigan on January 23, 1915. Stewart attended the Hotchkiss School, graduating in 1933. Following high school, he attended Yale University, where he was a member of Delta Kappa Epsilon. After graduating from the University in 1937, Stewart decided to remain at Yale for his legal, graduating four years later.
After law school, Stewart served in World War II as a member of the U.S. Naval Reserve aboard an oil tanker. After the war, he entered private practice with Dinsmore & Stohl in Cincinnati. In 1954, at the age of 39, Stewart was appointed to the United States Court of Appeals for the Sixth Circuit.
Appointment to the Supreme Court
President Dwight D. Eisenhower appointed Stewart to the United States Supreme Court in 1958. At a time when the Supreme Court was wholly divided, Stewart sat firmly in its center. As a result, he became a consistent swing vote in several influential cases. During his time on the Warren Court, Stewart was often in a dissenting posture. He dissented in Griswold v. Connecticut, reasoning that, while the Connecticut statute barring the use of contraceptives seemed to him an "uncommonly silly law," he could not find a general "Right of Privacy" in the Fourteenth Amendment Due Process Clause. Additionally, he was the lone dissenter in the landmark juvenile law case In re Gault, which extended to minors the right to be informed of rights and the right to an attorney.
Stewart consistently voted against claims of criminal defendants in the realm of federal habeas corpus and collateral review. He opposed the Vietnam War, and, on several occasions, urged the Supreme Court to grant certiorari on cases challenging the constitutionality of the war. Desiring to spend more time with his grandchildren and retire from the Court while he was still in good health, Stewart stepped down from his position June 18, 1981.
Death
Potter Stewart died on December 7, 1985 after suffering a stroke near his vacation home in New Hampshire. He is buried in Arlington National Cemetery.