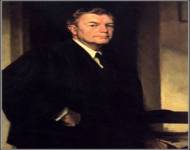 Early life
Robert Houghwout Jackson was born February 13, 1892 in Spring Creek, Pennsylvania, and raised in Frewsburg, New York. After graduating high school, Jackson apprenticed at a law firm in Jamestown, New York. Jackson attended Albany Law School for a year before continuing his legal apprenticeship. Without graduating from Albany Law School, Jackson passed the bar at age 21.
Career
Jackson opened his own private practice after passing the bar. He served as corporate counsel for Jamestown and was active in local politics. During Franklin D. Roosevelt run for New York governorship, Jackson befriend him and became an advisor. After securing the victory, Roosevelt appointed Jackson to a commission to study the state's judicial system.
Jackson and Roosevelt's friendship endured throughout Roosevelt's presidency. After winning his first presidential election, Roosevelt appointed Jackson as general counsel to the Bureau of Internal Revenue. Additionally, Jackson served as special counsel to the Treasury and the Securities and Exchange Commission and as assistant attorney general to the Tax Division.
In 1938, Jackson was appointed as the United States Solicitor General. Two years later, Jackson was named United States Attorney General. Jackson's stint as U.S. Attorney General was short because, one year later, Roosevelt nominated him to the United States Supreme Court. Jackson filled the vacancy left by Justice Charles Evan Hughes.
Supreme Court
As a justice, Jackson favored judicial restraint; however, he did advocate for individual's rights and separation of church and state. In Edwards v. California, 314 U.S. 160 (1941), Jackson helped strike the California law that precluded individuals from entering the state without an economic purpose. The law limited a citizen's mobility within the United States, which is contrary to the general idea of United States citizenship.
Additionally, in West Virginia Board of Education v. Barnette, 319 U.S. 624 (1943), Jackson authored the majority holding a law compelling public school students to salute the flag was unconstitutional. Jackson found it violated the First Amendment because it created a requirement of speech.
Jackson helped expand Congress' power to regular economic activity. In Wickard v. Filburn, 317 U.S. 111 (1942), Jackson penned the unanimous opinion which expanded Congress' power to regulate interstate economic activity to include indirect acts that substantially affected the market. It no longer matter if the product entered the interstate commerce market because Congress had the ability to regulate commodity prices and practices.
In 1945, Jackson was asked by President Truman to serve as Chief American Prosecutor before the International Military Tribunal at Nuremberg, Germany. The Tribunal charged war crimes against prominent Nazi leaders after their defeat in World War II. Lacking prosecutorial experience, Jackson was criticized for his poor cross-examinations of the defendants. During the trial, Jackson coined the terms "crimes against humanity" and "acts of aggression."
Jackson returned to the Supreme Court in 1946. After the death of Chief Justice Stone, the court was deeply divided. Jackson was believed to be the favorite to replace Stone as Chief Justice; however, two other justices threatened resignation if Jackson was appointed Chief Justice. Thus, President Truman nominated Fred Vinson for Chief Justice.
Jackson's health began declining in the early 1950s. After suffering a heart attack in March 1954, Jackson refused to step down and remained on the court to help end school segregation in Brown v. Board of Education (1954).
Later years
On October 9, 1954, Jackson suffered a fatal heart attack and died.