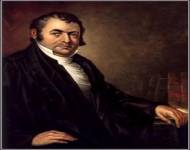 Early Life
Robert Trimble was born on November 17, 1776 in Berkeley County, Virginia, modern day West Virginia. After moving to Kentucky at a young age, Trimble struggled to find opportunities for an early education. He studied law in Ohio under former Attorney General of Kentucky George Nicholas and future Louisiana Senator James Brown. Trimble was licensed to practice law in 1803 and began his practice in Kentucky.
Early Career
Later in 1803, Trimble was elected to the Kentucky State House of Representatives, where he served a single term. Disliking the life of a politician, Trimble resigned and later refused a nomination to serve in the U.S. Senate.
In 1808 Trimble was selected to serve on the Kentucky Court of Appeals. Although he was later offered the position of Chief Justice of that court, he declined in favor of returning to his private practice for financial reasons. In the next two decades, Trimble served as a United States District Attorney and as a United States District Court Judge.
Supreme Court
In 1826, President John Quincy Adams nominated Trimble to the United States Supreme Court to fill the vacant seat of fellow Kentuckian Justice Thomas Todd. As President Adam's only Supreme Court appointment, Justice Trimble officially began his post on May 9, 1826.
Justice Trimble only served two years on the Supreme Court before his sudden death in 1828. During that time, Justice Trimble generally agreed with Chief Justice John Marshall on court matters. His one vote against Justice Marshall came in the 1827 Ogden v. Saunders case, which he concurred with Justice Bushrod Washington's opinion that a law passed before the execution of a future contract is a valid part of that contract.
Death
At the age of 51, Justice Trimble died suddenly from a severe fever on August 25, 1828.
Notable Cases:
Ogden v. Saunders (1827)