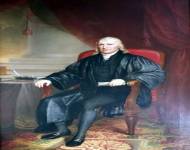 Early Life
Samuel Chase was born on April 17, 1741, in Princess Anne, Maryland. In his early years Chase received a classical education from his father before studying law in Annapolis, Maryland. Chase was admitted to the bar in 1761 and began his practice in Annapolis. He married Anne Baldwin in the following year, and the couple went on to have seven children together.
Early Career and Continental Congress
In 1764 Chase was elected to the Maryland General Assembly, where he served for twenty years. During this time Chase earned the reputation of being an intense debater and quick to start verbal arguments. It was perhaps this strong enthusiasm for debate that allowed for his selection to serve as Maryland delegate in both Continental Congresses of 1774 and 1776.
Chase voted quickly for independence when it was purposed on July 2, 1776, and he became a signer of the Declaration of Independence. Although Chase was heavily involved almost all proceedings during his time on the Continental Congress, he was forced to leave this post in 1778 after being accused of using insider information on the flour market.
Chase moved to Baltimore, Maryland in 1786, where he was appointed Chief Justice of the District Criminal Court. This period of Chase's life was marked by controversy on a number of accounts and heavy debt due to investment in land.
Supreme Court
On January 26, 1796, President Washington appointed Chase as Associate Justice of the United States Supreme Court.
In 1804, midway through his tenure on the Supreme Court, Justice Chase was impeached by the House of Representatives on the grounds of improper judicial behavior. This behavior included procedural errors, improper conduct, and indecent remarks. However, on March 1, 1805, the Senate voted to acquit Chase of all charges, allowing him to remain on the Court.
Many historians now believe that Justice Chase's impeachment was due to the rising tensions between the Jeffersonian Republican and Federalist parties. Under this theory, the Jeffersonian Republicans were seen as trying to rid the court of Federalists. In fact, some believe if Chase had been found guilty, further impeachments would have been made against other Federalist justices.
Despite the impeachment controversy, Justice Chase ruled over several important cases during his time on the Supreme Court. Most notable of these cases was Marbury v. Madison (1803), which resulted in the creation of judicial review, a system that is still in place today.
Other notable cases during Chase's tenure on the Supreme Court include Ware v. Hylton (1796) and Calder v. Bull (1798). In Ware v. Hylton, Chase argued that federal treaties superseded state laws that contradict them. In Calder v. Bull, Chase maintained that the government has no authority to interfere with individual rights.
Death
Chase served on the U.S. Supreme Court until his death of a heart attack in 1811. He died at the age of 70 in Washington, D.C.